October 21st, 2009 by
Lawrence Booth
in
Champions League
,
Twenty20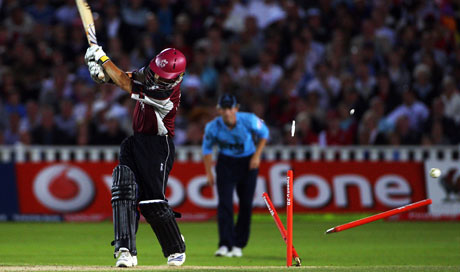 The failure of any of the three Indian Premier League teams to reach the semi-finals of the Champions League has been treated by some like a victory for pure sport – as if such a concept exists any more – over its adulterated cousin. But, for county cricket, the IPL's under-performance has also been a handy smokescreen. Because let's face it: Somerset and Sussex haven't exactly matched the Diwali fireworks either.
Six games involving the two counties yielded five defeats (one of them following a Super Over in which Sussex lost wickets to the first two balls) and a victory that said as much about Deccan Chargers' disarray as it did about the fighting spirit of James Hildreth and Alfonso Thomas. If the inaugural Champions League has flown the flag – get that pennant a sponsor! – for Australian competitiveness and the national pride and broad blades of Trinidad & Tobago, it has also cast yet another shadow over the quality of our domestic game.
Mark Robinson, the popular and respected Sussex coach, said on this site recently the counties play too much cricket. Indeed, but records do not come much more broken. Paradoxically, the repetition of this basic truth compounds its own dilution: another day, another grumble, we've heard it all before… now get back on that treadmill and nurdle a face-saving run-a-ball 38 to keep our hopes alive in the Pro40.
Robinson is right, but he was more right to nail the most damning consequence of a fixture-list that looks as if it was compiled by Mr Creosote. It just doesn't leave enough time for practice. And, lo: in two matches in India, Sussex managed a top-score of 24, and hit only three sixes. Somerset scored six sixes in four games. Out of 12 teams, those ratios place the counties 11th and 12th (T&T, incidentally, have so far biffed 32 sixes; even Bangalore managed 20).
Here, then, is a microcosm of one of English cricket's biggest problems: batsmen just aren't used to clearing the ropes. When Owais Shah and Eoin Morgan did so repeatedly against South Africa in the Champions Trophy, the beauty resided in the rarity. But, as a rule, English teams who have played their 50-over cricket in the seam-friendly months of April and May prefer to survive early on, then accumulate. It is not a recipe for explosiveness.
Somerset and Sussex went out to India talking, reasonably enough, about being ambassadors for county cricket. Money was at stake, sure, but so too national pride. In the end, they were all too symptomatic of a system which, despite playing Twenty20 cricket longer than any other set-up in the world, is still coming to terms with the inventiveness of the newest format – and the painful evidence of its own shortcomings.
Lawrence Booth writes on cricket for the Daily Mail. His fourth book, What Are The Butchers For? And Other Splendid Cricket Quotations, is out now, published by A&C Black
Posted in Champions League, Twenty20 | 2 Comments »