February 4th, 2009 by
Alan Gardner
in
England
,
IPL
,
Twenty20
and tagged
IPL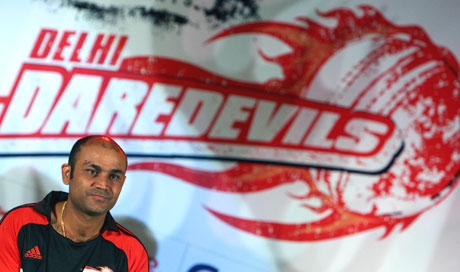 The player auction is this week, and, even though the competition doesn't start until April, there's been far more talk about Kevin Pietersen and Andrew Flintoff bagging an IPL contract than a hatful of runs/wickets against West Indies.
But is that to be expected? Are we all excited by India's biggest, brashest, most official Twenty20 tournament? The 'second edition' (makes it sound like some kind of collector's item) is looming on the horizon and the summit don't know whether to run for the hills, or pull on a giant foam glove and get whooping …
John Stern
Editor of The Wisden Cricketer
So when England lose the Ashes because players like KP haven't spent a single night in their own bed (at home, I mean, before you ask) since mid-January, will we all be saying: "Oh well, at least Kings XI Punjab had a good year?"
But it's OK, because there's no danger that the England dressing room would ever descend into petty squabbles or jealousy about money. There's absolutely no chance of any England player taking his eye off the ball, or taking the Windies a bit easy because they're more fired up for the IPL. No chance …
The IPL is a total nightmare for English cricket this year, which is why Stuart Broad deserves a big pat on his considerable back. I hope he gets rewarded with the chance to hit the winning runs against the Aussies at The Oval.
Edward Craig
Deputy editor of The Wisden Cricketer
I love it, in all its grotesqueness. The cricket is fine, I can take or leave that, but the hype, the noise, the celebrities - it puts cricket higher up the agenda and it helps players' games - look at Shaun Marsh and Graeme Smith. I don't like the ludicrous way it has marginalised the ICL, but other than that … go Deccan Chargers.
Daniel Brigham
Assistant editor of The Wisden Cricketer
I don't really know any of the teams (apart from the one named after a series about a fictional car), I didn't watch last year and I don't know who did well.
But I am excited, and it's all down to English involvement. Small-minded? Yes. But it gives it context for me and, I imagine, a lot of English cricket-lovers.
Money apart, players seem to love competing in it - there is a real joy when they talk about it and that can only rub off on the viewer.
On top of all that, it'll also show the clueless ECB how to run a star-studded Twenty20 tournament.
And there are cheerleaders. You don't get that in the Pro40.
Benj Moorehead
Editorial assistant of The Wisden Cricketer
Any Test series excites me more than a Twenty20 competition, with the possible exception of South Africa v Bangladesh. Having said that, as far as Twenty20 goes the IPL is the event that turns my head. The mix of the game's best players thrown together in the frenzied atmosphere of a packed Indian ground at night; international team-mates playing against each other - Flintoff v Pietersen, Warne v Gilchrist, Harbhajan v Sreesanth. That is, admittedly, exciting.
The trouble is there are 59 matches - after a week of it I become immune to the thrills of sixes and silly run-outs, and tired of the same, simple plot. And the big drawback is that it's not on Zee TV, which means no purple corduroy jackets, no pundits swinging on leather chairs, no Cricket Boom Boom.
Lawrence Booth
Freelance journalist and author
Dare I say I'm very excited? The auction's a bit of a red herring this year because each franchise has a mere $2m to splash out (spare change to go towards longer skirts for cheerleaders, apparently), but it will be interesting to watch KP do his best not to look too satisfied with life if and when he fetches more than Andrew Flintoff. As for the cricket, I hope the English cricket community engages with the tournament more this year. You may not like Twenty20 - but it's not disappearing any time soon.
King Cricket
While there's a large chance that someone might make you cry by using the word 'cricketainment' during the IPL, we do still enjoy it. We don't enjoy it in a "Hope Delhi Daredevils win it" kind of way. We enjoy it because the marketing is so staggeringly overblown, and laughing at overblown marketing while simultaneously wishing the whole of humanity would just shut up and go away is what we do best.
The cricket itself is generally a drawn-out lowlight. Last year's memorable moments included Ricky Ponting scoring 20, 19 and two golden ducks after being bought for $275,000 less than Manoj Tiwary, and, of course, Harbhajan Singh slapping Sreesanth - causing the latter to cry like a small boy getting chopped onions rubbed into his gravel rash.
Alan Gardner
Freelance journalist
Without wishing to sound too parochial, the IPL can go whistle. I can't watch it (don't have Setanta), have no enthusiasm for the teams/franchises (they were made up this time last year), and am baffled by the sums of cash involved (sportsmen need to make their money while they can, granted - but that much, that quickly?)
As a self-contained entity, it's fine, I suppose, and its key audience - India - appears to love it. But am I excited that a couple of fellows born over here have made the 'eligible sloggers' list for Friday's auction? No.
So, have you got your Shah Rukh Khan T-shirt on, or could you take indifference to a new level? Add your wisdom below, and help guide the summit
Posted in England, IPL, Twenty20 | 4 Comments »