February 6th, 2009 by
TWC
in
My favourite cricketer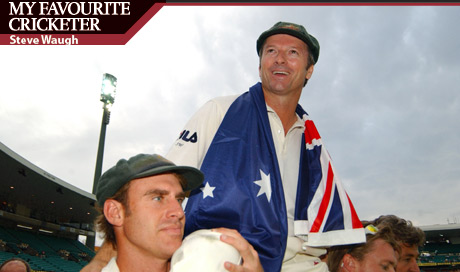 Photograph by Patrick Eagar
TWC.com reader Damith Samarakoon is the third winner of our My Favourite Cricketer competition for his entry on Steve Waugh

Coming from Sri Lanka, it was unimaginable that you lowered yourself to say something positive about the Australians. You would be shunned, sent to the corner and be cast aside like a black sheep.
So it was with great care that I developed my fondness for Steve Waugh. I had to praise him at a distance and in dark alleys where other like-minded 'traitors' discussed the Australians.
My interest in Steve was born during the 94-95 Ashes, a strangely unsuccessful series when compared to his later works, but the seed had been sowed.
There were days when I wished the 'new' Steve would play like his old self: pulling, driving, slashing bowlers to all parts. Then he would deliver something like Old Trafford in '97. He scored centuries in a game Australia needed to win – nearly half the team runs in the first innings and a century in the second with an injury to his hand. You just marvelled at this batting genius.
That was the new Waugh. Scoring runs when it mattered, when his team needed it the most. It was as if he willed himself to a century. It was ugly, it was uncomfortable but there he was, moving across the crease to nudge one to the leg-side, angling one down to third man, all the while scoring runs and putting Australia back in pole position.
However, my most enduring memory of Waugh's career is not a great match-saving century or those inspirational balls-to-the-walls moments he was known for, but of a single delivery in an ODI.
Steve had altogether stopped bowling in the 90s due to his back problems, so for Mark Taylor, that captain genius, to turn to him meant that it was indeed the last throw of the dice. The great players save their best for when the task seems beyond the call of a mere mortal cricketer. Steve was no different.
The 1996 World Cup semi-final was an opportune time for such a performance.
Ironically, this was a match that all Sri Lankans wanted Australia to win. Having won the first semi a day earlier, all of Sri Lanka wanted to face the Australians in the final. A huge wave of national angst towards the Aussies welled into one final chance to humiliate them on the world stage. It was an opportunity to avenge all the wrong Australia had done to Murali and the embarrassment caused by their not visiting Sri Lanka for their group match.
After collapsing to eight for three Australia had stammered past 200 and the Windies were well on their way to a memorable win. Chasing the ghosts of the 80s, Lara and Chanderpaul carried the hopes of the tiny islands. Lara in particular looked sublime, moving easily to 45. With no options left Taylor threw the ball to Waugh, and he picked up Lara from around the wicket with a ball that came in on the angle and left him slightly to clean-bowl him. It was one of those bits of cricketing genius that makes a life-long impression on a kid like me.
I enjoyed watching him because he played cricket as I thought it should be. Test cricket is a hard, brutal, street fight, whether the ball's flying by your nose at Perth or spinning past your body in India. It was to be played by men and there was no place for softies.
And Steve Waugh was as hard as they came. Tempered under Border and fine-tuned under Taylor, he was a breed of cricketer that is almost extinct in the modern game.
Damith Samarakoon, a Sri Lankan blogger at www.theflyslip.net, wins a year's free subscription to The Wisden Cricketer
To enter submit no more than 600 words on your favourite cricketer to [email protected], subject line 'favourite'
Posted in My favourite cricketer | 5 Comments »