February 17th, 2009 by
Edward Craig
in
England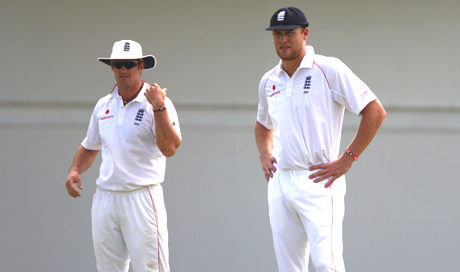 Flintoff and Strauss. That's where the next England trouble lies. In an interview in The Observer post-Pietersen-Moores, Flintoff said of Strauss: "We're chalk and cheese but we get on fine. He's the brunt of the jokes sometimes, so we're going to have to tone that down."
This pranged at the time – a relationship between talisman and captain that explicitly lacks respect.
At the end of yesterday's play, as Flintoff roared in during those final few overs to an 8-1 off-side field, Chris Gayle played and missed. Strauss went over to his bowler, asked him to go round the wicket with a short leg in place. Flintoff didn't like this and reluctantly had a go. Short, wide – four.
A stroppy Flintoff immediately reverted to over the wicket and moved the short leg to fourth slip. It took a few minutes to do this and much waving of arms. Strauss remained where he was at first slip, impassive.
The field reverted to 8-1 off side, Flintoff bowled too straight, Gayle jabbed the ball towards a vacant square leg and stole a single. Pressure off. Flintoff: pissed off.
This is a seed of discontent created by Flintoff's attitude to Strauss' cricketing ability. Without careful management, it will grow into something destructive – and England are without a coach.
Edward Craig is deputy editor of The Wisden Cricketer
Posted in England | 7 Comments »