February 18th, 2009 by
Lawrence Booth
in
England
,
Test cricket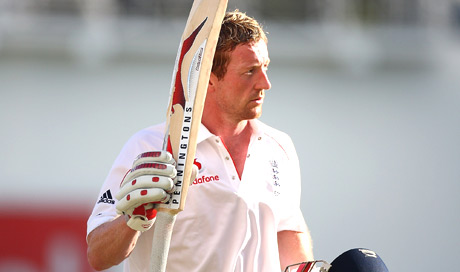 So, Paul Collingwood has just saved his career again, has he? Given that his first-innings 113 in Antigua was his third hundred in six Tests, here's hoping he does a lot more career-saving in the months and years ahead.
Collingwood may be destined to play second fiddle not just to the bloke at the other end – even if he did outscore Kevin Pietersen on Sunday – but also to his own technique. Some observers in the blogosphere, it seems, are unable to divorce style from substance, as if Steve Waugh and Shivnarine Chanderpaul have always been a joy to watch. Yet when Ian Bell spoke after the Jamaica Test of his need to score more "ugly" runs, there could not have been much doubt which of his colleagues he had in mind.
Let's get one thing straight: Collingwood hardly ever looks good, with the possible exception of his chips over wide mid-on off the spinners. So when he's not scoring runs, the vultures – sensing the easiest of targets – hover with extra relish.
At times it's difficult to disagree with them. When Collingwood was scratching around against New Zealand last summer, he looked like England's least aesthetically appealing operator since Jack Russell. Yet while other members of top six – notably Alastair Cook, Bell, and Andrew Flintoff – have barely been worthy of the name recently, Collingwood has chiselled and chivvied. When the calls for his head remain, you realize just how unobtrusively he does it. And don't forget: only one current player has made a Test double-hundred against Australia.
Aw look, it's probably why Shane Warne sledged him with such glee in 2006-07. The Aussies know a scrapper when they see one and no one scraps for England quite like Collingwood. But there is a lesson here that goes beyond the usual observations. Between making 128 against West Indies in his own Riverside backyard in July 2007 and that, yes, career-saving 135 against South Africa at Edgbaston a year later, Collingwood fell eight times between 40 and 66.Ring any bells? Alastair Cook, there is a man sitting not very far away from you in the dressing room who knows exactly what you're going through. Have a quiet word, if you haven't already, and try to bottle some of that bottle. And let there be no more knee-jerk talk about dropping England's toughest cookie.
Lawrence Booth writes on cricket for the Guardian. His third book, Cricket, Lovely Cricket? An Addict's Guide to the World's Most Exasperating Game is out now published by Yellow Jersey
Posted in England, Test cricket | 3 Comments »