February 18th, 2009 by
TWC
in
England
,
Test cricket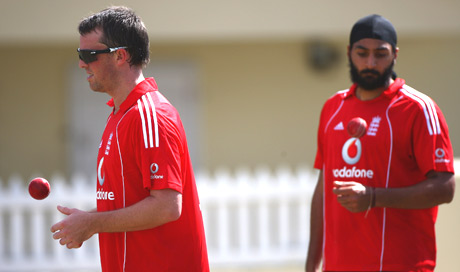 Monty or Swanny? Left or right? Darts or flight? Graeme Swann has repaid the selectors faith in Antigua but does he have a long-term future? Our panel do their worst …
Edward Craig
Deputy editor of The Wisden Cricketer
The longer version of the game suits Swann's loopy, flighty style. He can afford to be more expensive, take more risks with conceding runs while still attacking than in the shorter, first-class game. He's also mad for it. Not that this counts for much. Ronnie Irani was mad for it and just a bit rubbish.
Daniel Brigham
Assistant editor of The Wisden Cricketer
Swann has to be given a run now. He was afforded the luxury of bowling with freedom after England's huge score, but he took advantage of that with variety and clever thinking. He is also a lot more fun in press conferences than Monty and a better batsman than Ashley Giles.
Monty will go back to county cricket and hopefully become a better bowler. I'm just not sure Northamptonshire is the best county for him to do that at.
Benj Moorehead
Editorial assistant of The Wisden Cricketer
Swann, after yesterday, deserves a run in the Test side. But in the long term it is hard to imagine him becoming more than a stock bowler who relies on canny variation to persuade batsmen to get themselves out. Panesar, on the other hand, relies more upon natural talent. When he's bowling well, when his flowing, rhythmical action produces the drift, the dip and turn, then Panesar would seem the more likely to run through the opposition's top order. That he turns the bowl away from the right-hander is an advantage too.
The concern with Monty is that he's too fragile to make a comeback. Rejection may flatten him. In this respect he is lucky that Mushie has begun his role as spin coach just as Panesar has lost his place – Mushie may be the one to fortify his mental approach as well as his bowling.
But does he have the confidence to defy the critics in the media, not to mention his own doubts about himself?
Lawrence Booth
Freelance journalist and author
I feel a bit sorry for Panesar. He was deemed good enough to be picked for the second Test, then dropped without getting the chance to prove that the extra dimensions he showed in Jamaica were part of the new Monty. It's way too early to say Graeme Swann deserves a run. And I bet I know who the Aussies would rather face.
Rob Smyth
Freelance journalist
Panesar first stood still and then started going backwards, and needs to learn to bowl all over again. Swann isn't as naturally gifted but has more nous, gumption, variety and batting ability.
King Cricket
We remember a time when England would have killed for a metronomic spin bowler who could give it a rip, so it's curiously pleasing to see one dropped. Competition for spin bowling places, eh?
The future will be judged in terms of how Panesar responds rather than how Swann performs from now on. For all his limitations, Panesar is fundamentally the better bowler and should be first choice when in form. He should strive to acquire an arm ball worthy of the name and greater variation in flight and pace, but those aspects of his game are becoming folk devils. Plenty of Test bowlers have had enormous success through doing relatively simple things with the ball consistently.
Graeme Swann has started well and any player who appears for the national side should be given a decent run. It's pointless trying to gauge a player's worth when their stomach's in knots during their first few matches. England need to give Swann a good stint in the side while keeping Panesar in mind. It's a balancing act that might require a timely injury at some point.
Sam Collins
Web editor of thewisdencricketer.com
Swann has a bit about him, knows his game and won't let England down in any discipline or any format. This isn't really about Swann though, it's about helping the better bowler (Panesar) fulfilling his potential. It could be an opportune moment for Monty to step out and assess how to move forward, although it is a bit too close to the Ashes for comfort, and as Benj mooted - how will he respond to rejection? That said, with no Old Trafford Test this summer, do we really need the Monty of recent times?
Long-anointed as a FSC (Future Sky commentator), Swann's promotion is clearly relished by their production team – he even gets his own microphone for pitch reports. We have heard of journalists mixing print-deadlines and commentary commitments – perhaps Graeme will be a pioneer of in-Test commentators.
Posted in England, Test cricket | No Comments »