February 23rd, 2009 by
Alex Bowden
in
England
and tagged
cricket
,
stuart broad
,
the wisden cricketer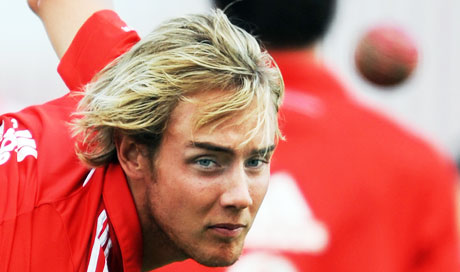 We have a simple rule regarding players who represent England: we love them unthinkingly. We loved Alan Igglesden. We loved Neil Mallender. We loved Aftab Habib.
So, blindly, unquestioningly, we love Stuart Broad too. But it's a forced, mechanical love borne out of duty because, for some reason, we find it hard to warm to him.
What's not to love? His bowling is canny and thoughtful. He bowls cross-seam deliveries when conditions dictate. He bowls from wide of the crease. He can bowl the ball at 90mph plus with a following wind.
How about his batting? It's responsible and disciplined. He has a good technique and plays back foot drives as well as anyone. We were in the crowd at Old Trafford when Stuart Broad and Ravi Bopara rescued the shoddiest of one-day run chases against India. It was a joyously steely performance where he displayed the kind of will to fight back from any position that instantly makes a player a crowd favourite.
His attitude is perhaps his biggest selling point. He's visibly competitive and seems utterly committed to bettering himself. He's earned lifetime brownie points from England supporters through spurning the IPL in favour of preparing more fully for the Ashes. So what in the world is there not to love?
Having thought about this at great length (well what do you do with your weekends?), we've finally concluded that the main reason we feel faintly frosty towards Broad is because we've been told how wonderful he is by a million and one articles over the last few years. Nobody likes being told what to think.
Confusingly, a good few of those million and one articles were written by us. That's how confused we are on this matter.
Even this article about how he hasn't won our heart reads like a love letter.
See King Cricket's regular blog at www.kingcricket.co.uk. King Cricket is a cult figure in the world of cricket blogs and was TWC's first Best-of-blogs winner in April 2008.
Posted in England | 5 Comments »