February 25th, 2009 by
Lawrence Booth
in
England
,
Test cricket
and tagged
cricket
,
ebgland
,
lawrence booth
,
twc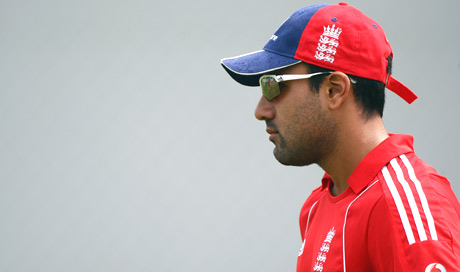 Ian Bell or Ravi Bopara? It is not the question we were supposed to be asking ahead of tomorrow's fourth Test in Barbados. No, the question penned in advance was: Bell or Owais Shah? But life is rarely as neat as that. Bell was dropped after one Test, Shah began with a half-century in Antigua (never mind that it was made mainly against Ryan Hinds and Brendan Nash), and Andrew Flintoff is injured once more. England find themselves with an unexpected dilemma in a tour unexpectedly full of them.
When Bell last replaced the crocked Flintoff, for the Lord's Test against Pakistan in 2006, he duly compiled the first of three hundreds in four innings – and all from No. 6, which is the slot available now. One tempting argument has it that the events of recent weeks are conspiring to return Bell to his rightful position, where he averages 49 (as opposed to 31 at No. 3). And the way England allowed him to open in the second innings of the two-day game that finished on Monday, you wonder whether Andy Flower and Andrew Strauss are thinking along similar lines.
Gents, the temptation must be resisted. The whole point of dropping Bell after Jamaica, apparently, was to give him a breather from the suffocating circle of failure-criticism-introspection-failure. Few doubt he has the class, but that became increasingly irrelevant as he unfurled one elegant innings of 20-something after another. There's no shame in being dropped. In fact, it can work in a player's favour. But not if the pressure is back on before he's had the chance to enjoy life again.
If Bell deserves a longer break, then Bopara deserves a break of a different sort. He has all Bell's shots and plenty more confidence. Last summer, recalled to the squad for the Oval Test against South Africa, he likened himself to a wild dog roaming the streets. It's the kind of simile that suggests an acute sense of self-image (although possibly, delivered without a trace of irony, a lack of self-awareness). And that is what may have held him back so far.
Bopara, it has been said by one former coach, needs to treat cricket with a greater degree of care. Cockiness can prove fatal, and there has been a mental flabbiness about much of his running between the wickets during his one-day international career. Equally, he is still only 23: the wild-dog image suggested he had been straining at the leash for rather longer. Give it time, Ravi!
So, Bopara is desperate for a crack, he can bowl a bit and he plays without fear. That may be just what this England team needs as it tries to avoid what would be a pretty awful series loss. Bell, for the time being, is over-burdened with baggage. It should be a no-brainer. But you do wonder, you really do…
Lawrence Booth writes on cricket for the Guardian. His third book, Cricket, Lovely Cricket? An Addict's Guide to the World's Most Exasperating Game is out now published by Yellow Jersey
Posted in England, Test cricket | 1 Comment »