February 27th, 2009 by
TWC
in
My favourite cricketer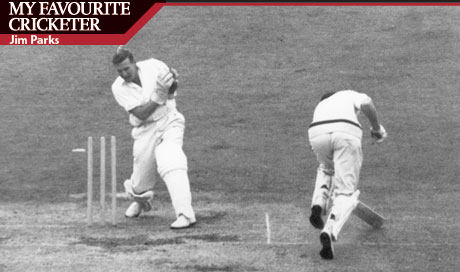 Thewisdencricketer.com reader Derek Watts is the latest winner of our My Favourite Cricketer competition for his entry on Sussex wicketkeeper Jim Parks.
I watched my earliest first-class cricket at the Central Ground in Hastings around 1952. It would have been County Week or the Festival and I was at once captivated by the ebb and the flow, the grace and the power, the names and the history. Here indeed was a game with a glorious past, a thrilling present and an infinite future. Summer, it seemed to an eight-year old, would go on for ever.
I followed Sussex, of course, and Jim Parks was the one who excited me and my friends the most: the player who, like Botham or Flintoff, would empty the bars, who hit with joyous abandon, who pounced on a cover-drive like a cat on a rat and who, when he was out, still smiled at the cricketing fates.
Jim's is a Sussex life born of the warp and weft of the Weald, his family part of that dynastic tradition enriching the cricketing past of the county which is the cradle of the game. "….the Weald, where cricket grew up, " wrote Arlott, "has always produced cricketers in the original mould. Thence cometh the men to whom a cricket bat or ball in the hand is as natural as any implement of any other Wealden worker."
Born of a family of Wealden workers Jim was "a young man of undoubted talents, even brilliance, who (needed only] to set his mind on wiping out one or two defects in his technique to have a good chance of bridging the gap to Test cricket" - so wrote Len Hutton in 1956. Keith Andrew told me, "here was a young man with the potential to be another Compton: he played all the strokes." John Murray, perhaps his keenest rival, concurs: "When Jim did make runs he was so quick on his feet he made 'em bloody quickly for you - that was equally as important as it bought you some time to bowl."
John Woodcock joins me. "John was the better wicket-keeper - very stylish - but Jim never let England down." More than that, "If you are the best keeper in the world", says MJK Smith, "and you don't know which end of the bat to pick up you won't be the most valuable man in the Test team……You would have worried about Knott batting higher than seven, but you would have been happy to see Jim going in a bit higher."
"You need your keeper to make runs," says Boycott, a shrewd and demanding critic, "and he didn't drop many." For CMJ, Jim was "a much under-rated 'keeper and quick, perky, smart, aggressive, fluent, entertaining and a beautiful driver." Jim learnt much from Godfrey Evans, who believes "that if he had had the opportunity to keep regularly to top-class spin bowling he could have been a truly outstanding 'keeper. His greatest qualities were his footwork against spin bowling - he was always able to get to the pitch of the ball and smother spin - and his delicate cuts and glides which were responsible for over 50 per cent of his runs off fast bowling."
"Nobody in the English game", says Peter Graves, "had seen a player put their left foot outside leg stump and hit it for six over extra cover" – but as David Allen reminds me, "He had this lovely grip at the top of the bat and he was so well-balanced - the sign of the great players. He was also, apart from Colin Bland, not far off from being the best cover-point in the world - he was certainly the best cover-point in the Championship. England class - no doubt about that whatsoever."
Derek Watts wins a year's free subscription to The Wisden Cricketer
To enter submit no more than 600 words on your favourite cricketer to [email protected], subject line 'favourite'
Posted in My favourite cricketer | No Comments »