April 7th, 2009 by
John Stern
in
County cricket
,
Twenty20
and tagged
cricket
,
John Stern
,
the wisden cricketer
,
trescothick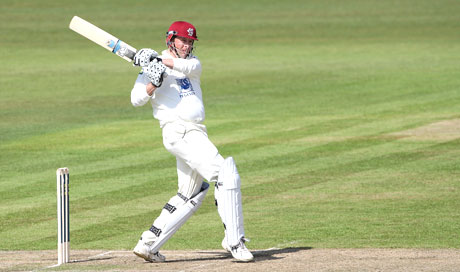 The omission that caught everyone's eye was Andrew Strauss. The omission that went unnoticed – because technically it is not an omission at all, more a sad, aching absence – is Marcus Trescothick, Strauss's opening partner in the 2005 Ashes and now 'just' a damn good county cricketer for Somerset.
We need reminding about Trescothick. I was reminded the other night in a pub conversation. "We really miss Trescothick," my mate said. It wasn't something I hadn't thought of before. It's something I regularly think about but then it becomes a pointless discussion – wanting what you can't have – so the idea disappears much as Trescothick has done, at least in international terms.
He wasn't the complete player, we know that. But he scored quickly and that, with the exception of Kevin Pietersen, is one of the fundamentals that England have lacked since 2005. Not everyone can or should bat like Trescothick but he gave an innings impetus and precious little of England's recent cricket has had any impetus. Time and again, in Test matches, we have seen how volume of runs alone cannot guarantee victory. You need to score quickly to give yourself more time, obviously, but there is also a domineering quality – embodied by Trescothick's batting – that boosts your own side while demoralising the opposition.
The World Twenty20 lasts for a fortnight give or take. Surely Marcus could have been persuaded to come out of international isolation for that, surely negotiations could have brought down the Cider Curtain, just temporarily at least. He could have even commuted to the games . I'm sure the ECB know where you can get a decent helicopter: one not so careful owner (or renter).
Trescothick only played three Twenty20 internationals but he averaged 55, with two fifties, and scored at 126 runs per 100 balls. Overall he has played 18 Twenty20 games with a strike-rate of 154 or just over nine runs an over in old money. That, by anyone's standards, is a fair lick.
This is a futile wish clearly but, boy, do England miss Tresco. And don't forget his slip-catching and his champion ball-shining (with help from the controversial Murray Mints).
And to think he might not have played for England at all had Duncan Fletcher gone with a hunch and plucked him from relative obscurity in 2000. Talking of people we miss …
John Stern is editor of The Wisden Cricketer
Posted in County cricket, Twenty20 | 1 Comment »