April 15th, 2009 by
TWC
in
England
and tagged
andy flower
,
England
,
summit
,
the wisden cricketer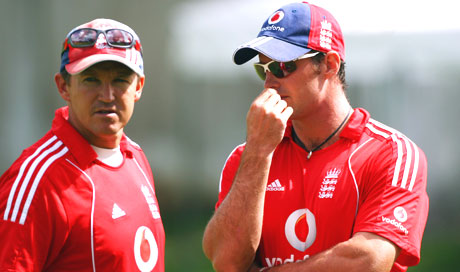 So England have appointed Andy Flower, not as their new coach, but as their new team director of cricket. But is there more to Flower than tough talking and a name that delights the headline-writers? Was he really the best man the ECB could find? For all the inside praise of his good work in the Caribbean, England's batsmen have markedly failed to improve under his tuition and his close links with the previous regime raise questions of whether much has changed within Team England at all.
You can read what John Stern has to say on the appointment here, but our panel are bursting to add their tuppence below.

Edward Craig
Deputy Editor of The Wisden Cricketer
He is untried – take the West Indies tour with a pinch, not his team and unsure in his position – but he is tough, has a strong Test record as a player and England teams have responded well to a Zimbabwean in the past. I do have reservations about his lack of experience coaching, which means that I give him a very tentative thumbs up. I'd prefer to see Mickey Arthur or Tom Moody – but despite what the ECB think, beggars can't choose …
Daniel Brigham
Assistant editor of The Wisden Cricketer
His results as England batting coach weren't impressive – Bell and Cook didn't improve under him. His results as interim coach weren't impressive. Yet he is the right man for the job with a formidable character, compiled of an intelligent and open cricketing mind, a determination that comes from making yourself the number one batsman in the world while playing for a weak Zimbabwe team and, according to those who know him well, excellent man-management skills.
He also seems to have a good relationship with the captain, which, as we've seen, shouldn't be taken lightly. They have had their critics for negative decisions in the Caribbean but it's important that this England team learn how not to lose before they can start winning again. Just ask Nasser Hussain and Duncan Fletcher.

Benj Moorehead
Editorial assistant of The Wisden Cricketer
We know Flower the fine batsman. But Flower the head coach? Hmm. From what we can glean he's an unshakable character – thick-skinned, focused, and ruthlessly workmanlike. A fierce yet controlled interview he gave to Sky after England were embarrassed in an ODI in Barbados was revealing. So, too, is his stated admiration for the Graham Gooch ethos, which Flower experienced at Essex. Gower and Flower would surely have worked well together only in rhyme.
Flower the coach is a work in progress, and as such, his appointment is high-risk. Certainly it's not the best option for England's immediate interests, which, in the Ashes, could not be more important. An experienced new man, untarnished by the recent dressing-room eruptions, would have been better. But who of they were available?
It's a maybe.
Andrew McGlashan
Assistant Editor of Cricinfo.com
Before the West Indies tour even Flower wasn't sure if he wanted to put his name forward for the top job. However, during the 11-week trip his appetite has been whetted, helped by a strong relationship with Andrew Strauss. His case was boosted as others dropped out, but it would have been a waste if the ECB had thrown away his hard work from the Caribbean by going for another candidate. Flower has the international pedigree that Peter Moores lacked and seems to know when to intervene and when to step back. Don't forget what happened to the national team the last time a Zimbabwean was head coach.

Rob Smyth
Freelance Journalist
On results, no - losing to the West Indies was England's worst Test series result for at least a decade - but the consistent and effusive praise afforded Flower by those inside the squad cannot be comfortably dismissed as irrelevant. There are better men available, however, not least another Zimbabwean chap with whom English cricket is quite familiar.
King Cricket
Blogger and Rob Key fan
It doesn't really seem like a choice. Most of the leading contenders have dropped out. Graham Ford nearly didn't apply in the first place because he thought he'd be busy watching South Africa v Australia, then he did drop out because the process was taking too long. The world's coaches are hardly jumping at the chance to take on 'the biggest job in cricket'.
Andy Flower seems a decent man for England to be stuck with though. There were encouraging signs in the Windies, with good responses to a couple of disasters. That said, England coaches do get the benefit of the media actively looking for good signs in the early days. That never lasts.
Flower was a great batsman largely through good organisation and a robust mental approach. Those are valuable coaching qualities too. Our only reservation is in the shape of some mediocre results with England's batsmen who he's been coaching for some time now.
Posted in England | 2 Comments »