April 17th, 2009 by
TWC
in
England
,
My favourite cricketer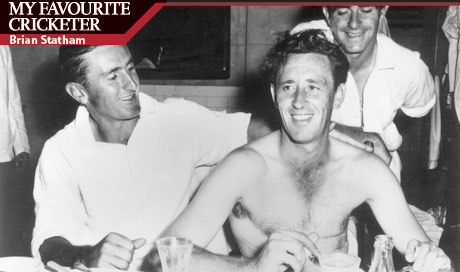 Thewisdencricketer.com reader David Grundy is the latest winner of our My Favourite Cricketer competition for his entry on the Lancashire and England bowler Brian Statham.
My first was Brian Statham's last. His retirement game was the Roses match at Old Trafford – I saw him on the Saturday of the August Bank holiday in 1968 (back when it was the first weekend of the month). A school trip had taken me to see cricket at Old Trafford for the first time.
Yorkshire were in their pomp. Close, Trueman, Illingworth were all playing, Boycott absent injured. Illingworth was about to fall out with the Yorkshire committee - the year before he became England captain – and Trueman was in his last season. The Championship they won that season would be their last until 2001.
Lancashire were batting first, and scored not very many. Statham didn't detain us long, bowled by Richard Hutton for three. I remember Trueman bowling a very gentle first delivery to get him off the mark. Trueman always said Statham was his favourite England partner. His gesture showed his respect for his old mate. But I wasn't there to admire Statham's batting.
Statham came on to bowl in the evening sunlight. By close of play Yorkshire were 34 for eight. The following day they were all out for 61, Statham taking six for 34. This was thrilling. We were in raptures. Here was Yorkshire - mighty Yorkshire - being given a bloody nose.
Yet Statham's modesty shone through in all he did. After the fall of each wicket there were no exuberant celebrations. Bowling batsmen out was what he did. So why waste energy celebrating? That evening he bowled just to show everyone he could still do it.
By today's standards he didn't look like a hero. His kit was unadorned by any sponsors' logos and he certainly didn't have any tattoos. His job done, he simply slung his sweater over his shoulder and led the team in. The ground stood as one.
In games of backstreet cricket (one shared bat, one hand off the wall and all that) I was Brian Statham. I copied his walk back to his mark and his arrow straight run-up. I was immaculately side-on of course. My running commentary always took me back to that sunlit evening. I found out about his career by devouring books about him. Thus started a lifelong obsession with cricket books for which there is no known cure.
My strictly limited talent for playing meant I would be forever a spectator at Old Trafford. Bank Holiday Saturday in August 1968 wasn't a bad place to start. I learned to love the game through Brian Statham. My brief encounter with him on that Saturday sparked a lifetime of devotion to the Red Rose. In 1968 Lancashire hadn't won the Championship for 34 years. 41 years later we are still waiting. We had to cherish moments of success when they came. For me, it was first-time lucky.
David wins a year's free subscription to The Wisden Cricketer
To enter submit no more than 600 words on your favourite cricketer to [email protected], subject line 'favourite'
Posted in England, My favourite cricketer | 1 Comment »