April 17th, 2009 by
telford vice
in
IPL
,
South Africa
and tagged
cricket
,
India
,
IPL
,
South Africa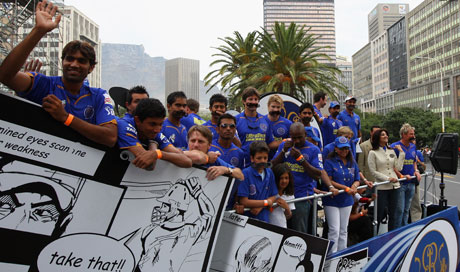 Telford Vice with the first of his weekly IPL blogs as the tournament hits South Africa.
Do not assume that all South Africans are chuffed that the Incredible Pyrotechnic Loudness (IPL) has catapulted itself into their midst.
The front page lead in this week's edition of the august and venerable Rosebank Killarney Gazette (OK, it's a sour little Jo'burg knock-and-drop) told us the truth: "Stadium chaos looms." Damn straight.
An inspired piece of fish-wrap, the "story" exclusively revealed that the residents of several apartment blocks near the Wanderers – a teeming colony of the wealthily retired - have had their jowls set aquiver with wrinkly rage.
They've long accepted that the serenity of their summer nights will be ruined by floodlit raucousness, and they're well used to every square inch of their pavements being annexed for parking during big matches.
But they thought the season would be over after Friday's ODI between South Africa and Australia. Suddenly the poor affluent things face another eight day-nights of their dentures dancing to the thumping music in a glass on the bedside table. Something must be done.
In the IPL offices at the Wanderers, nothing discernible was being done as the days to blast-off melted away. "Umm …," was the first response to an enquiry about accreditation. "Is that media accreditation or company accreditation?"
Couldn't resist: "Media company accreditation."
A pause.
"Umm …," she said.
After owning up to impersonating a reporter, I was stared at vacuously. Then she blinked. Ummbelievable.
Verily, South Africans are either indifferent or enchanted at the prospect of Bollywood and its cricketing sidekicks coming to town.
Durban's large living Asian community can hardly wait to pack Kingsmead to the pylons. Some are consulting the family griot to pinpoint their mother country roots before they pledge their allegiance to a particular team.
That means we can look forward to the traditional boiling over of tensions on the embankment beyond the north-east boundary. Samosas at five paces, like kung-fu stars, and all.
Tickets are also going fast in Cape Town, where Shilpa Shetty, the Rajasthan Royals' designated diva, has starred in television sports bulletins to deliver a masterclass in multi-tasking. Breathlessly poised in front of a fleet of yachts bobbing suggestively at their moorings, she preened furiously while waxing fantastic about the magical marriage between movies and cricket that makes the IPL a gift from the gods.
Stand by for what Capetonians themselves think … Capetonians? Think?
Telford Vice is a freelance cricket writer in South Africa who writes regularly for The Wisden Cricketer
Posted in IPL, South Africa | 4 Comments »