April 28th, 2009 by
telford vice
in
IPL
,
South Africa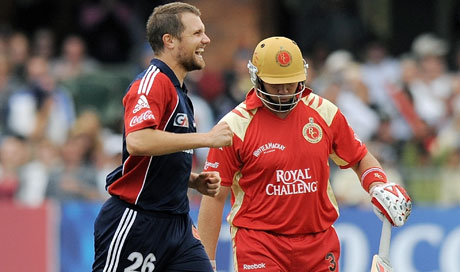 Best Jacques Kallis never reads this. You see, the bloke who made him look stupid on Sunday doesn't quite fit the bill.
Towards the bowling crease bustled one Dirk Peter Nannes to deliver the first ball of the match for the Delhi Daredevils against the Bangalore Royal Challengers in Port Elizabeth. There, tapping the pitch like a blind beggar shaking a tin mug on a deserted street corner at 4am, pretty much as he has done for 131 Tests, 291 one-day internationals, four T20 internationals, 221 first-class matches, 383 list A limited overs games, and 23 T20 encounters, stood the immovable Jacques Henry Kallis.
Tap … this would be Kallis' 1251st innings … tap … at any level … tap … besides junior and club cricket … tap …
Clunk!
Kallis' off-stump was a needle in a haystack to him, but not to Nannes – who nailed it with a stealthy stiletto of an inswinger.
JH Kallis b Nannes 0 (1m 1b)! Can you ever!
All well and good, these things happen. Even to Jacques Kallis. But who the hell is Dirk Nannes?
His parents are Dutch, and that's the least interesting thing about him. For the rest, he is a World Cup skier, he went off to university to study the saxophone, he made his first-class debut (for Victoria) at age 29 after taking his cricket a mite more seriously, and he is one of the quickest left-arm bowlers to be found anywhere in the game. Oh, and he goes by the nickname of "Diggler". And if you know what that refers to you are better versed in dodgy movies than you should admit.
But here's the real thing: Dirk "Diggler" Nannes is keeping Glenn McGrath out of the Daredevils side. Now there's something to put on your CV. Now, we've all heard of this McGrath fella. He could bowl a bit; no doubt still can. But Nannes? Who knew?
The Incredible Pyrotechnic Loudness (IPL) has changed all that. Doubtless there's a fascinated youngster in Delhi who is planning a career playing the saxophone on the ski slopes as we speak.
A lot of sanctimonious twaddle has been said and written about the IPL, but the magic of moments like "Diggler's" damn fine dagger of a delivery stabs through all that.
Jacques Henry Kallis, for one, will never forget it.
Telford Vice is a freelance cricket writer in South Africa who writes regularly for The Wisden Cricketer
Posted in IPL, South Africa | No Comments »