July 7th, 2009 by
Sam Collins
in
England
,
Miscellaneous
,
The Ashes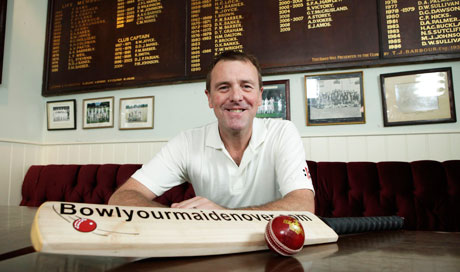 Phil Tufnell played 42 Tests for England, taking 121 wickets at 37.68. 'The cat' took 11 for 93 to bowl England to victory over the Aussies in the fifth Test at The Oval in 1997, but never featured in an Ashes series victory. He now has a successful media career, and summarises on BBC Radio 4′s iconic Test Match Special. He was speaking to Sam Collins to promote the men's health campaign Bowl Your Maiden Over.
How did you get involved with Bowl Your Maiden Over?
The facts that were put in front of me were quite amazing. If you filled up Lord's with men over the age of 40, 10,000 of them will have encountered some sort of problem downstairs. It's absolutely amazing, I couldn't believe that amount, those statistics. And all they've got to do is go down and have a little chat with the doctor and in 95% of cases it can be put right and you can get back on track a little bit.
Have you ever suffered any embarrassing moments in the commentary box?
In the commentary box?! No, not really. You just say what you feel when you're out there. I think I've got excited and started shouting and screaming, and sometimes you've got to remember that you're not necessarily supporting England. I'm doing three Tests for TMS this year – Lord's, Headingley and The Oval.
How has the Ashes single gone down?
It's great. That's going well. Proceeds all go to cricketforchange.com which is a great charity looking after special needs kids and teaching them sport. It's just a bit of fun really and if it can motivate the blokes and motivate the crowd and put the Aussies off then all the better.
Will the Barmy Army be singing it?
Who knows. They might get hold of it in the crowd and have a little sing. That would be nice.
Were England right to bring back Monty Panesar?
It's great to see Monty back. There's been a lot of talk about Cardiff and whether it's going to spin. I think it will do, having had a chat to a couple of the guys who have played down there. Playing two spinners will be the right way to go and I think they've picked the right two. It could be a great chance for Monty to get back in the swing of Test cricket – he lost a bit of confidence lately but if the wicket's turning then that naturally gives a spinner confidence and it'll suit his style of bowling.
A lot has been made of Monty trying to add variation to his game recently, was that the right way for him to go?
Not particularly on this kind of wicket – it will be good for him to bowl on because it's going to be a slowish pitch on which you've just got to keep your pace up and keep spinning it hard – keep bombarding the Australian batsmen with good line and length and that's what Monty's saying he's going to go back to now. He's obviously going to be working on a few little variations and changes of pace throughout his career but on a wicket that turns, I don't think there's a better spin bowler than Monty.
Is that an important part of succeeding in Test cricket, being able to be selective with the advice that you listen to?
Yes, for sure. Otherwise everyone seems to have an opinion so you can get a little bit bombarded. Monty's a very keen and work-hungry kind of guy. Perhaps he should just listen to one or two people.
What's enabled Graeme Swann to make such an immediate impact?
Swanny has been around a long time. I toured with him, crikey, about 10 years ago. He's an experienced county professional now. He's sort of done his apprenticeship and learnt his craft and now it's coming to fruition and he's bowling fantastically well. He changes his pace, and can give it a good spin. He can field well and bat well as well. I expect him to have a big summer.
If you were choosing one for your team, which one would you choose?
At the moment you'd have to go with Graeme Swann. From his performances in the West Indies and at the start of the summer, I think he's deserved it.
Which team do you think has the strongest bowling attack going into the Ashes?
England, especially now Brett Lee's out for a bit. Stuart Broad is looking to be a real contender: big, strong with all the attributes, a thinking bowler. Jimmy Anderson is starting to lead the attack and swing the ball very well. He's matured as England number one strike bowler. And big Fred, obviously, if he's fit. And we've got the likes of Onions and Harmison up our sleeves as well so I think we're looking strong in the bowling attack.
Has too much been made of Andrew Flintoff's transgression last week or did he really step over the line in Belgium?
I'm sure he feels a bit embarrassed and a bit disappointed about it but it was very well handled by Andrew Strauss and the team. We all make a few mistakes, it's best just to move on. I'm sure Fred will realise his mistake and it won't happen again this summer. Just go out there and get a few hundreds and five-fors and don't worry about missing the bus here and there. But don't miss it all the time.
Have you ever seen a weaker Australian team than this one?
No.
Would you have fancied your chances against them then?
Bloody right I would have. I think that's one of the reasons England have got such a good chance. Australia will never bring a bad cricket side to England. They're very combative cricketers, they're very aggressive, and they're very skilful as well. But it's not the same as seeing Warne, McGrath, Gilchrist, Langer, Hayden. It's just not. They're the boys who have been in control for the last 10 years. It's kind of 'welcome to the real world' a little bit, Australia. You've lost your real world-class, best-there's-ever-been, spin bowler in the world and your world-class, best-there's-ever-been, opening bowler, and wicketkeeper-batsman. They're going to have to realise that they're going to have adjust their style of play. You can't put Shane Warne on for two hours at one end and say keep on bowling.
Have you seen much of Nathan Hauritz?
Yeah he looks low on confidence. He looks like he could struggle.
What's your prediction for the Ashes then?I think if it's going to be anything like 2005, we're going to be in for an absolute treat. I think 2-1 to England. We've just got the measure of them. It's two very evenly matched sides and we're just going to come out on top.
Sam Collins is website editor of thewisdencricketer.com
Posted in England, Miscellaneous, The Ashes | No Comments »