July 21st, 2009 by
John Stern
in
England
,
Test cricket
,
The Ashes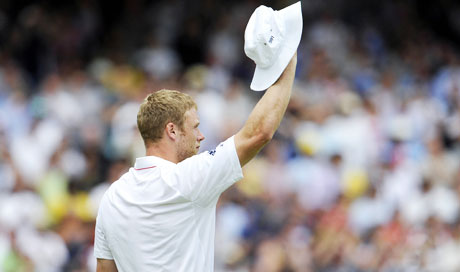 "Special, boss," Kevin Pietersen was heard to say as he and Andrew Flintoff embraced at Lord's yesterday lunchtime. No more embellishment required.
It was special. How special we won't know for a few weeks but for now we can reflect on one of the great Ashes performances. Or, if you're in Duncan Fletcher's Flintoff-sceptic camp, you can reflect on how he "chipped in with that long-overdue five-wicket haul".
Fletcher's point is that four years is a bloody long time to wait for one of your strike bowlers to take five wickets in an innings. That Flintoff's last five-for before Lord's should have come at The Oval in 2005 implies a sense of theatre that might not be always in the best collective interest.
But it might have more to do with circumstance and tactics. A combination of taking the new ball and his impending retirement seems to have freed Flintoff from the shackles of containment and allowed him to attack in the way that Mickey Arthur, the South Africa coach, suggests in the current issue of TWC.
England don't do mystery spin but, every decade or so, they do serious pace and that is how they generally win the Ashes. As a one-off, Flintoff's performance at Lord's must rank alongside any of the great displays of Ashes fast bowling from history.
So where does the series go from here?
England had the better of the conditions and the decisions at Lord's. Australia ought not to bowl as badly again whereas England's batting still has a certain fragility about it, physically (in the case of KP) and mentally.
Surely Flintoff cannot manage three Tests in three and a half weeks and that makes England's attack, in anything other than swing-friendly conditions, look exposed just as they are starting to work over Australia's long batting order.
Where England now have a massive edge is in the mind. Whereas Cardiff and Lord's were quiet venues, England are now entering the home ground stage of the series.
Australian players will get plenty of stick at Edgbaston and Headingley. Only Ricky Ponting and Michael Clarke have the reputations to brush it off easily.
The momentum is decidedly with England now. The series is theirs to lose.
John Stern is editor of The Wisden Cricketer
Posted in England, Test cricket, The Ashes | 2 Comments »