July 8th, 2009 by
peter siddle
in
Test cricket
,
The Ashes
and tagged
ashes
,
Australia
,
cricket
,
siddle
,
the wisden cricketer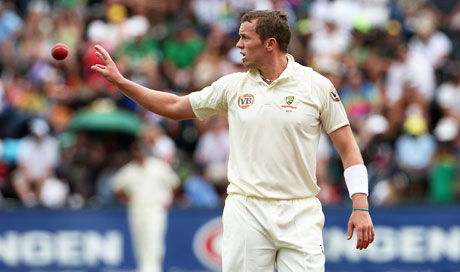 Peter Siddle, the Australian bowler, is blogging weekly for thewisdencricketer.com throughout the Ashes.
We're just about set for the first Test and we're feeling confident. Having looked at the pitch it looks like a good cricket wicket – nice and hard, with a good bit of grass on there as well so it looks like it's going to hold up for five days. Most wickets are pretty similar, if it seams a little bit then it's going to spin, so there'll probably be a bit of spin too, but we'll have to wait and see how the weather and the game pans out to see if that will be a big influence.
We won't be told about the team until just before the toss, but I'm hoping I've done enough to make the starting XI. My preparation has been pretty good – I was over here for the Twenty20s and had the extended period to get used to the conditions. I got through about 30 overs in Hove against Sussex, feeling comfortable and in good rhythm so I reckon I've done enough good preparation going into this series. The selectors spoke to me when they left me out at Worcester and while there were no guarantees I would be picked at Cardiff, they said they were happy with where I was and wanted to rest me and have a look at a couple of the other guys.
I have now played as many times for my country as I have done for Victoria in first-class cricket, due in part to injuries to my shoulder. It's pretty amazing in a way and I consider myself very lucky, especially when a lot of guys play 50 or 60 times for their state before they get a chance, if at all. I have had mixed feelings ahead of this Test; on the one hand it's just another game, but when you think of the history behind the Ashes and what it means for the English and Australian players to get that chance to play in an Ashes series you start to realise what a massive honour and achievement it is. By the time you read this the game will probably have started, but to be just half-a-day out now from having the opportunity to walk out for the first day of the first Test is mad. I just wish I didn't have to sleep, I want to play it now! I'm not sure what we are planning to do first, but I hope we bowl first, it's always easier to get your part of the game out of the way and get into the match and the series straight away.
It'll be a pretty quiet night before the Test, my parents are over for it so I'm catching up with them for the first time over dinner, and my girlfriend is here as well. It's always great to have your family with you – my parents came over to watch my Test debut in India when they took an emergency flight to Mohali, and this is their first time over in England.
When they're not here it is great that we all get on very well as a squad – it's a younger crew than have toured in the past so that helps, a lot of energetic young guys running around having fun. Phillip Hughes and I like to joke around and Mitchell Johnson does as well, we try to keep the boys entertained. Brett Lee and Shane Watson have their guitars with them, so there have been a couple of nights when a few of us have sat down and listened to them having a jam and a sing in the physio's room (they've spent a bit of time there recently but it's because it's the biggest room!).
Brett's injury is disappointing. Be it batsman, bowler or keeper it's never good to see one of your team-mates go down, especially on the eve of a big series like this. After watching him in Worcester where he bowled unbelievably well in preparation for this Test he looked like he was back to his prime, bowling with great pace and rhythm. Hopefully he can be fit and strong and back for the second Test.
A big part of Brett's success at Worcester was reverse-swing. It's something that played a big part in 2005 so it's something that we've worked on hard. England used it a lot better than us that time, but we've done our planning and our practice and it paid off for Brett at Worcester. Hopefully we can get it going here in Cardiff and throughout the series. Troy Cooley got Pigeon (Glenn McGrath) to come and talk to the seamers at Worcester for about an hour or so about fast bowling over here and wishing us luck. It's always great to listen to someone with that sort of knowledge, and he made a little joke about us not standing on any cricket balls. . .
I'm looking forward to getting to know the English crowds. I copped a bit in South Africa, but I started to enjoy it and get used to how I'm going to get treated overseas. I've heard the Welsh crowds like to get a bit rowdy, so I'm looking forward to that, it should be good fun. We haven't got any stick yet, so it will be interesting getting off the coach tomorrow to see how long it takes people to have a good yell at us.
Posted in Test cricket, The Ashes | No Comments »