July 14th, 2009 by
Sam Collins
in
County cricket
,
England
,
Test cricket
,
The Ashes
and tagged
County cricket
,
England
,
sam collins
,
simon jones
,
The Ashes
,
the wisden cricketer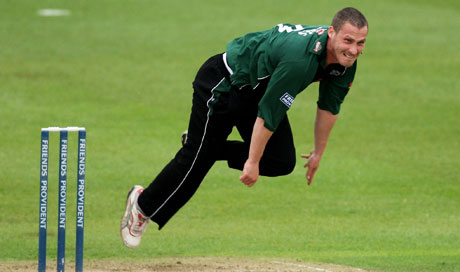 Simon Jones was a key member of England's Ashes winning side in 2005, but due to a succession of injuries has not played for his country since. Currently contracted to Worcestershire, Jones will not play this season due to a knee injury. He was speaking to Sam Collins on behalf of Friends Provident at the Chance to Shine Festival in Salisbury.
Did England show enough aggression with the ball in Cardiff?
Freddie did. He really went after the batsmen. The only thing with Cardiff is that the wicket is slow so you do need to bowl fuller. That's the only thing I would have said having played at Cardiff for 13 years. I think any problems England had is just nerves. The Ashes is the biggest series you can play in cricket.
Stuart Broad had a hard time in Cardiff, is he the right man to open the bowling?
Let's not be too hard on the boy. He's been bowling fantastically well for the last year. He hasn't bowled as well as he can in Cardiff but there are another four games in the series so he has plenty of time to sort himself out. He is a fantastic cricketer, he just needs to relax, bed into his length and he'll be fine. He's a confident lad and will keep his chin up.
Were you surprised not to see Steve Harmison involved in Cardiff?
I was surprised. After the way he roughed the Aussies up at Worcester he seemed to be back to bowling the way he was in the West Indies in 2004 – hostile and aggressive. That was great to see – he has had a lot of stick over the years, where people have questioned his desire. I have known Harmy for a while and it is definitely there. It's just sometimes he needs an arm around his shoulder to give him encouragement and then you will see the Steve Harmison of old.
Why hasn't he fulfilled his potential?
I'm not sure, you'd have to ask him that. He burst onto the scene, taking all those wickets in the West Indies and sometimes people's expectations were too high. For him to keep that form up would be unbelievable. Trust me, he works hard at his game, it just hasn't quite gone for him.
Did his performances in 2004 help take the focus off yourself, Andrew Flintoff and Matthew Hoggard as you found your feet as Test bowlers?
Definitely. I had just come back from a serious knee injury and I was nervous going into that series because I felt everyone was just expecting me to fall down in a heap of pain. I'd seen it coming for a while with Harmy, the way he'd been bowling in the previous series against South Africa and it was clear that it was going to happen where he just clicked and destroyed a batting side. He dominated the series with his aggression and even Brian Lara struggled against him. All the headlines were 'GBH Harmison'. Myself, Fred and Hoggy could just do what we did.
Is it important within a pace attack for the bowlers to have different attributes?
That's whey we were so successful. I was the skiddier, swing bowler who could reverse it as well, Hoggy swung it around corners, and Freddie and Harmy hit the bat hard. This attack could become samey. Regardless of that though, if the boys get the ball in the right areas, they are going to take wickets – those are the basics of bowling.
Duncan Fletcher recently described you as the best of the Ashes-winning quartet. What did that mean to you?
It was a great feeling. For him to say that … I must have done something right, he is such a hard taskmaster. I got on well with Fletch, and he gave me the chances I needed to become the bowler that I am … I was … with England. I have a lot to thank him for. Freddie and Harmy and KP got a lot of the plaudits after the Ashes but it was nice for someone to give me some recognition.
Was he right?
It was the best form I was in, in my life. It showed in the way I bowled and the way I played my cricket. I was reverse swinging the ball and I was swinging it conventionally. He said I was the most complete bowler of the lot, which makes me feel great.
Do you remember anything in particular that Fletcher said to you?
He said in his book that he'd seen me at Glamorgan and realised that I was quite … not sensitive, that's the wrong word but like Harmy I needed an arm around my shoulder. He dealt with me perfectly; he was the best man-manager and coach I've ever come across. He helped me a lot on my grip too. There weren't so many things he could say to me, he would just encourage me and tell me to go out there and enjoy myself.
Could England have had the same success in 2005 without Troy Cooley?
He is the best bowling coach in the world. I was upset when he wasn't re-signed by England. That was a major blunder. But, things move on and he's gone to Australia, and you see the way their bowlers are bowling. That's no coincidence – he's worked his magic on them. He brought me on, Harmy on, he brought Freddie on. He didn't overcomplicate things. We were all good bowlers in our own right – we didn't need much coaching we just needed fine-tuning. He was exceptional at spotting small flaws in your action – whether it be your grip, your leading arm or falling away and next ball you'd correct what he thought was wrong and it would all be sorted. He is one of my best friends as well, I keep in touch with him every week.
Who else do you keep in touch with from the England set-up?
Kevin (Pietersen) and Matthew Hoggard – just those two really. It's such a busy schedule for the lads who are in the international side. But then you see them having not seen them for three or four years and it's like you've never been away. It's one of those sorts of clubs. I saw some of the lads at Cardiff during the Test and Freddie gave me a shout and a wink as he went out to bat in the first innings. That made me laugh, because everyone else had run past heads down and concentrating and then Freddie gave me a wink and a shout. He does make me laugh Freddie.
Why do you keep persevering?
I just love the game. It's difficult to imagine my life without cricket. Whether that be on a coaching basis or something else I'm not sure. I see these injuries as tests of my character, I keep on plugging away no matter what. A lot of people say they would have hung their boots up by now if they were me. Well they're not me. It's something that you just get on with. And I've been lucky that I have had three good surgeons who have been easily approachable as guys and been honest with me. If they had thought at any time that I wouldn't have been able to carry on they would have told me. That's the way I'm keeping myself positive and I'm going to give it one last shot.
Is next season your last chance then?
Maybe. I just want to give it one last shot. My surgeon has said it's going to be fine, it just needs more time. It's one of those things, maybe I've got to realise. But, at the same time I've been doing everything right and that's all I can do. I'm having a meeting at Worcester on the 20th July and I'll find out whether they are giving me a new contract then.
Have you thought about alternatives to cricket like coaching?
Yeah, I've thought about it. But I have other aspirations, I'd like to do other things as well, I'm only 30. I'm going to carry on playing cricket as long as I can and see where it takes me.
Is there one small moment from the Ashes '05 that stands out for you?
If there was one moment for me that summed up the attitude of '05 it was when Hayden and I squared up. Paul Collingwood and Straussy got involved as well and that showed our desire and the lack of fear that we had. We were a young side as well and we won the biggest series that's ever been really.
Who would win in a fight between you and Hayden?
He's a big lad isn't he? He's got a big chest. I think he might have me. But I'd give it a good go, don't worry.
Do you have an Ashes prediction?
2-1 to us. I think our bowling will win us a few games.
Sam Collins is web editor of www.thewisdencricketer.com
Posted in County cricket, England, Test cricket, The Ashes | 4 Comments »