July 24th, 2009 by
Sam Collins
in
County cricket
,
England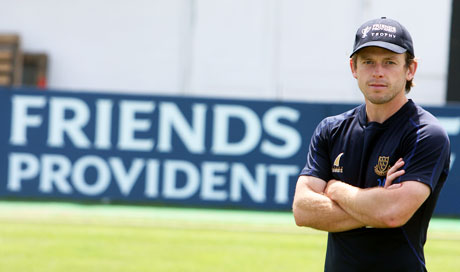 Ed Joyce is a key part of the Sussex team that take on Hampshire in the Friends Provident Trophy final at Lord's tomorrow. He moved from Middlesex over the winter, having captained the county to their first domestic trophy in 15 years when they won the Twenty20 Cup in 2008. He has played 17 ODIs for England, scoring 107 as England beat Australia at Sydney in 2007. He was speaking to Sam Collins to promote Friends Provident's sponsorship of the competition.
What have been the key factors in Sussex and Hampshire reaching the final of the FP Trophy?
Both teams have strength in depth. We've got about seven or eight guys who can bowl at some stage in the innings, a lot of seam options and spin as well. We bat down to 10 as well, and they are the same. We played them the other day in the Pro40 and they had Dimi Mascarenhas who nearly won the game for them coming in at seven and Dominic Cork at nine or 10 – very dangerous players down the order. What you can say about both sides is that they are never beaten, we both possess players who can change games.
How does the FP Trophy rank in the priorities for a county player?
It's the only chance we have to get to a Lord's final, and a Lord's final is the biggest day in the domestic calendar. So it's a massive thing for us. 50-over cricket is a major part of the international calendar, so in terms of England aspirations for the guys playing county cricket the 50-over game is very important. Winning the FP Trophy would rank just behind the County Championship.
How is your own form?
I'm very happy with my one-day cricket – I've worked out a method and it seems to be working for me. We were in three competitions at the start of the season and we're still involved in all three so it would be nice to take at least one trophy home, starting on Saturday.

How are you enjoying your time down at Sussex?
I'm absolutely loving it. The guys here work tremendously hard – the coaches seem to be here 24/7, I hope they are paying them enough! There is a huge work ethic down here, and it's smart work, not just work for the sake of it, very focused in what it's trying to achieve. It shows in the results we've had this season, particularly in the one-day format.
How strange will it be for you returning to Lord's with Sussex?
I went back there last month for a Twenty20 against Middlesex so I've got that bogey off my back. I have great memories from my nine or 10 years at Middlesex, so hopefully I can draw on that and pass on a bit of experience to the guys about playing at Lord's.  I don't think I've played there before in quite as big a game as this though so it will be a new experience for me and I'm looking forward to it. I won the T20 last year with Middlesex but it's different this year with Sussex. Whereas Middlesex were unfancied last year we now possibly go into the game as favourites, although Hampshire have been playing well as well.
Have you got a dressing room at Sussex that will handle that pressure?
I think we do. We've got some older players passing down their experience – Murray Goodwin, James Kirtley, myself, Mike Yardy, Yasir Arafat and others – and some less experienced ones coming through like Rory Hamilton-Brown, Will Beer and Chris Nash and I think the balance works well. These young guys haven't played in big games like this, and so are a bit wide-eyed and can go in and play with a bit of flair. So I think we'll handle the pressure well.

What made you choose to move to Sussex from Middlesex?
Sussex has been a successful county over the last few years, and that helps, but you hear good things about a place and you want to be involved in that. I knew Mike Yardy pretty well from the academy and having been on a few England tours and with the A team as well. I saw him as a captain and liked how he led and what he stood for, and I liked the way Robbo (Mark Robinson) talked as well. I thought that the principles of Sussex were very desirable to come to. I didn't want to move too far from London, because my wife still commutes up there so that was a factor but mainly it just felt like the right place to come.

What were the reasons for you leaving Middlesex?
A fresh start is the easiest explanation. I think when you're working in the same place for a long time you can become stale. I'd certainly become that over the last few years, which was mainly my fault, so I felt a change would be a good way to spur me on to perform better. Proving myself to a new group of players was a big motivating factor, I felt like I needed something to give me a kick up the backside.  It's proved a new lease of life for me, so I'm very glad I made that decision.
There were reports that Ed Smith had unsettled the Middlesex dressing room.
Ed Smith did a lot of good things at Middlesex. He was a good captain and I felt sorry for him not being involved in that T20 finals day as he had come up with a lot of the plans that we implemented throughout the tournament. It was a wrench for him not to be involved. Obviously he's now retired, prematurely in my mind because he was a quality player. I was Ed's vice-captain, we disagreed on a few things but also agreed on a lot as well, I think that's just the way it works between a captain and vice-captain.

Jamie Dalrymple has also left Middlesex in the last few years, is it a problem for them that young players with international ambitions have had to leave the county to further them?
It's obviously not ideal for Middlesex that myself and Jamie left, although not many others have done. The encouraging thing for Middlesex is that they are still producing young guys who are very close to getting into the England side – Eoin Morgan has made the breakthrough this year and Owais (Shah) is an England player, Straussy is there as well and you've got Dawid Malan who is a quality player. They do have to get their structure sorted out though, and come to a compromise with the MCC and Lord's to get a better base at Lord's and become a more consistent side. As the game becomes more professional they will need that to compete.
Do you still have unfinished business with England?
I've played 16 or 17 games for England, and done ok without doing brilliantly. I do feel a more complete player now and a better player, so I feel that if I get back in I'd give a better account of myself. There's definitely unfinished business there, it means scoring more four-day runs I think. I have a burning ambition to try and play Test cricket – that is the ultimate, so it would be nice to have a go at that at some stage.
Did you encounter any bitterness over your decision to qualify for England?
Very, very minor. When I was in Australia with England I got a bit of heckling from a few guys in the crowd once but nothing sustained. Anyone who knows anything about cricket in Ireland knows how it works, certainly in the last few years. You had no real opportunity to play in big games for Ireland or to make a living out of the game. It was unrealistic to expect people not to make the switch over to England. It's probably more realistic now to believe that people can make a living with Ireland because they are a much higher profile cricketing nation now and hopefully will continue to grow in the future. You can see that with the guys who are coming through, and hopefully they have more of an opportunity to play international cricket for Ireland and won't have to go to England.
Do you see any potential for Ireland to achieve Test status?
I can't see that happening in the foreseeable future because they just don't have the structure to deal with a domestic system or to play Test matches and get the crowds in and sustain it financially.  It's more realistic to see them playing more one-day cricket and perhaps get ODI status at some stage. That could happen in the next few years.
Sam Collins is website editor of thewisdencricketer.com
Posted in County cricket, England | 2 Comments »