July 29th, 2009 by
peter siddle
in
England
,
Test cricket
,
The Ashes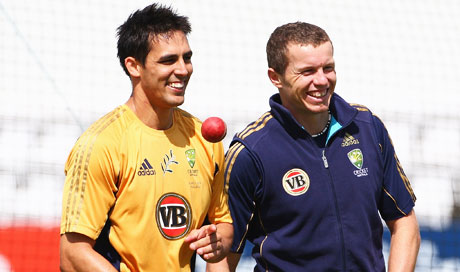 We've had a week or so now to take stock of the first two Tests. The enormity of the occasion and the tour, and the excitement of playing is still there, we are just frustrated that at this point we are 1-0 down. There are still tree Tests to go though and I'm confident we can turn things around. Cricket is all about momentum and trying to keep that momentum as long as possible. You saw that with the way that England took their performance from the last day in Cardiff into the Lord's game.
After Lord's we'd had a big two weeks, with back-to-back Tests and bowling a lot of overs, so I was feeling physically tired and a bit worn down, but after a couple of days rest and not bowling a lot of overs during the tour match I'm feeling really good again and looking forward to a couple more weeks of cricket.
It seems there is a good chance that the weather will affect this match, which is a bit disappointing as we're trailing and were hoping for a full five days of clear weather to give us the best chance of winning the match and getting back into the series.
We still don't know what the selectors are thinking, they'll have another look at the pitch and probably let us know the night before or maybe even at the toss tomorrow morning. Nets have been a competitive place, the bowlers are charging in and giving the batsmen a good workout, so it's healthy for the team. It's a big decision for the selectors, I'm hoping personally to keep my place, but there could be changes coming. Obviously the guys who haven't had a chance in the Tests yet got their opportunities to impress the selectors at Northampton and they all did pretty well. They're itching to play some cricket.
Shane Watson was striking the ball very well, he scored a fifty off 28 balls at Northants playing proper cricket shots and with his bowling getting back to his best and the pace he can bowl at he's always great to have in the side. Andrew McDonald also showed form with the bat and I like the way he goes about his bowling – he blocks up one end, which is very handy. Stuart Clark bowled exceptionally, he's another who keeps it tight and generates real bounce off the wicket. For guys like myself who have been the men in the possession of the spots it puts a bit of pressure on us, but we just have to be ready for it and focus on our own bowling. You can't go out there thinking "I'm going to get dropped" or "I'm definitely in" – you can't control anything apart from your own performance.
We're aware that England have scored at a very quick rate so far in this series, and one of your aims as a bowler besides taking wickets is always to keep the opposition down to between three and three-and-a-half runs an over. We've been a little expensive, that could be down to the wickets being a little flatter but it's definitely something that we're aiming to cut down on in this match. That's an asset that a couple of the guys on the sidelines have, so we'll see what the selectors have in mind.
Mitchell Johnson looked good up at Northants, he got through 25-30 overs, his pace was back and he was charging through the crease, so he was reasonably happy with how he went. He was a bit disappointed not to take more wickets, but he was unlucky with a few chances that didn't go his way. People have mentioned his economy rate, but we set attacking fields on a small ground and if you look at the figures a few of us went for some runs so in this case I don't think that was an issue.
I'm pretty good mates with Mitchell and if the media attention he's been receiving has affected him he hasn't shown it. He's been pretty strong, obviously it's been tough but his mood has been good around the group and I know he's enjoying his time over here. He just wants to get out there in this next Test and get back to his best and show everyone what he can do.
It's really important that we get off to a good start at Edgbaston. It's shown in the last two tests when we've bowled first, even in Cardiff we let them get away a bit in the first session and then at Lord's they had that great partnership between Cook and Strauss which left us chasing tail for the rest of the match. Hopefully, be it with bat or ball, in this Test we can work hard and set the tone for the match.
Ian Bell will be slotting in for Kevin Pietersen at number four in the order for England, and it definitely makes their top-order look a bit more vulnerable. Losing KP for England is the equivalent of us losing Ricky Ponting, so it puts a bit of pressure on some of their guys. Hopefully we can get the openers early and that brings Bopara and Bell in. Bopara obviously isn't at his best at the moment, so if we can keep the pressure on him and Bell that could be an opening for us. Bopara's very calm normally, but like a lot of the more inexperienced blokes on both sides has not shown his best yet in this series. Maybe it's the big occasion, but he does seem a little nervous, and we'll be doing our best to squeeze him early on.
I've enjoyed the chance to see a bit of England over this tour, and we've had fun in Birmingham despite the bad weather. Mitchell and I went for a walk around the shops and the city centre the other day, it's all quite new, and speaking to a few people it all seems to have come up in the last five years. We also had a few people coming up and reminding us that we were 1-0 down, and telling us we were going to lose at Edgbaston. We'll see about that!
Posted in England, Test cricket, The Ashes | No Comments »