July 1st, 2008 by
Daniel Brigham
in
County cricket
,
Twenty20
and tagged
daniel brigham
,
ramprakash
,
surrey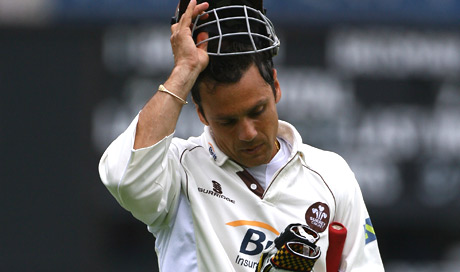 How Mark Ramprakash would have done if recalled by England appeared unanswerable as long he kept being overlooked. But the last six weeks have given a strong indication that he still reacts to pressure in exactly the same way he did 15 years ago.
Our May issue had Ramps on the cover with '97 and counting'. We were, of course, counting up to his hundredth hundred. Numbers 98 and 99 were executed faster than one of his Tangos and, as from May 3, he was one away from a century of centuries. Today, July 1, he still is.
From the day the media descended on the Rose Bowl in Ramprakash's next Championship match Ramprakash has struggled. His tally in the three matches before the Twenty20 Cup started came to 101, at an average of 16.83.
Was pressure getting to him? Well, his very public – and very embarrassing – outburst at a TV cameraman in a Twenty20 match against Hampshire suggested that the answer is far more certain than his batting at the moment.
In Surrey's current Championship game against Kent he made an agonising 48 in the first innings, before falling to a brilliant catch from Geraint Jones (surely a sign the world is against you). Just as his door was getting further and further away from Geoff Miller's knock, today saw what may be the final blow.
With a lead of 177, Ramps came out to bat to face Martin van Jaarsveld, bowling his first first-class over the season. He stepped down the pitch to launch the ball over mid-wicket, but failed to clear Ryan McLaren, who took an easy catch. As Ramps trudged off, the Surrey balcony went into hiding. Ramprakash does many things brilliantly, but he'll never do pressure.
Daniel Brigham is assistant editor of The Wisden Cricketer
Posted in County cricket, Twenty20 | 7 Comments »