July 2nd, 2008 by
Sam Collins
in
England
,
South Africa in England
and tagged
bell
,
bopara
,
collingwood
,
England
,
morkel
,
ntini
,
pietersen
,
South Africa
,
steyn
,
vaughan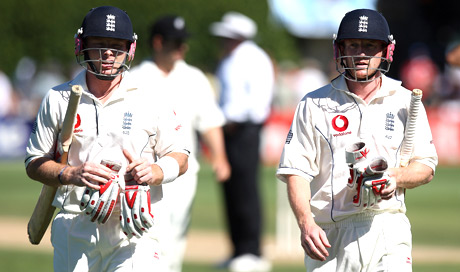 As England look set to name an unchanged side for a record sixth Test ahead of the first Test against South Africa, it is hard to ignore the paradox that a side breaking a 130-year Test record for continuity is still so palpably in the midst of transition.
It makes sense doesn't it? A record sixth match unchanged for an England side that has won four of their previous five Tests. It is supposed that stability breeds success, after all. So, that's a record sixth match unchanged for an England side that has failed to top 400 in the first innings once in that period; when they have carded totals of 352, 253, 319, 202 and 364.
Consistent, yes: Consistently average. And this against a New Zealand side spearheaded by those noted tearaways Chris Martin and Kyle Mills; combined pace probably still slightly below the lumbering Matthew Hoggard.
Dale Steyn, Morne Morkel and Makhaya Ntini are a somewhat different proposition. Not least for England's newly resilient lower-order, bearers of so many crucial gifts in recent times, who will not be looking forward to their imminent encounter with raw, unadulterated pace. Tim Ambrose will find it hard to cut Steyn's trademark inswinging yorkers, while it is worth remembering how petrified Stuart Broad looked when confronted with Fidel Edwards' similarly express heat in the ODIs last summer. Of the 51 wickets Steyn has taken bowled or lbw in his Test career 31 of the batsmen were in single figures. On form, it could be Waqar in 1992 all over again, meaning the onus is very much on the specialist batsmen to make runs.
There is little to suggest that they will do so. The recent one-day series and the media's obsession with the Flintoff saga have conveniently taken the focus away from the deep-rooted problems in England's top-six. As it stands; Kevin Pietersen is untouchable, while Andrew Strauss and Michael Vaughan are safe for now. Alastair Cook is off-colour but class, Ian Bell aesthetic yet gutless. Paul Collingwood is simply on borrowed time. In those five Tests, in 30 combined innings, England's top six have managed just five fifties and two hundreds. To contrast, South Africa's last five first innings totals (excluding an anomalous two Test series against Bangladesh in which they made 170 and 583) have been 321, 556, 540, 494 and 265. Their top six accrued one double hundred, six hundreds and five fifties in these Tests (three in India and two against the West Indies). The stats underline the perception that England's top-six are under-performing dramatically.
But who then to replace them? Owais Shah and Ravi Bopara have provided glimpses of a brighter future in the last few weeks, but neither appears to have done enough to force the selectors hands in the immediate term.
These two aside, the silence among the other hopefuls is as deafening as it is disheartening, even ignoring the unhelpful lack of Championship cricket in the build up to the series. Michael Carberry, supposedly the next in line over the winter, has a solitary Championship half-century this season, while the highest scoring English batsman bar Bopara is a wicketkeeper, Matt Prior, and unfortunately for him he is England's Least Wanted.
Bopara for Collingwood would be the bold choice at Lord's, not least for the exuberance that he would bring to England's cricket, a necessary and refreshing departure from the cynicism that has infected Collingwood's batting and body-language in recent times. For all his positive qualities Collingwood has become indicative of the 'reduced and diminished' mindset that sees England bat as though constantly under the pump, a malaise that has even crept as far as Vaughan and Pietersen, previously so uninhibited.
England will most likely name an unchanged side at Lord's, but if Steyn and the rest are on form a change is unlikely to be far away.
Sam Collins is the web editor of The Wisden Cricketer
Posted in England, South Africa in England | 4 Comments »