July 25th, 2008 by
Alan Gardner
in
County cricket
,
Twenty20
and tagged
alan gardner
,
essex
,
graham napier
,
the wisden cricketer
,
Twenty20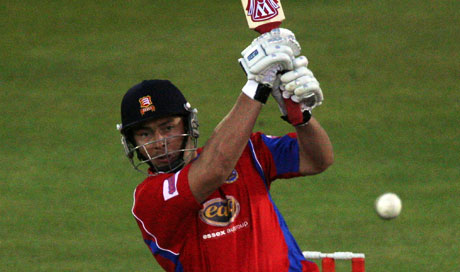 This week, Essex's newly-famous allrounder Graham Napier took 4-50 against Gloucestershire in Division Two of the County Championship– his best figures with the ball in first class cricket since the summer of 2004. Two things may strike those who know Napier primarily because of his pyrotechnic 152 in this year's Twenty20 Cup as surprising: first, he's no mean bowler, who can play the longer game as well; and second, his form has been in an agricultural-sized trough for the last few seasons.
The 2001 Essex yearbook reveals how Napier was viewed when he first emerged at the County Ground in Chelmsford. The 2000 season round-up records that, "Napier recovered from back surgery and a remodelled action to play some exciting innings in the First XI's one-day matches, and should be pressing for a regular first team place this year". A combative batsman, often sent in as an opener or No3, he could also send down a few overs during the middle of an innings. His promise was clear – though, as often happens to players who can perform more than one role, Essex didn't always seem to know what to do with him.
Rather than becoming an identikit Ronnie Irani, scoring runs from the middle-order and chipping in with his useful medium pace, Napier morphed into a short and skiddy, but effective, opening bowler. In 2003 he took 39 wickets in one-day competitions at just under 17, earning him place in the ECB's fledgling academy. The next summer, he picked up 39 championship wickets at an average of 37, as well as another 28 at 16 in List A cricket. There was also a hundred from just 78 balls batting at No8 against Nottinghamshire, his maiden first-class century. Essex-goers have long known of his potential; but then he almost sunk without trace.
Injuries and rapidly draining confidence meant that Napier subsided from being a front-line bowler in both the long and short forms of the game, to captaining the second XI at the start of the 2008 season. The question of alternative vocations was beginning to arise – but the green shoots of Napier's revival may have been visible even then, on the pages of his Essex blog.
Wintering in New Zealand, Napier seems to have reapplied himself to the task of making the most of his talent, rediscovering some of his former élan. Playing club cricket for Upper Valley he took his first ever hat-trick, on his way to 7-34, and was also called into the Wellington State Shield side, for whom he played four games, taking nine wickets at just 16. Maybe sharing the batting with Stephen Fleming helped to concentrate the mind, but it was for Wellington that Napier made his best Twenty20 score of 48* – until detonating Sussex to all parts of the County Ground four weeks ago, that is.
On Twenty20 finals day, opposition bowlers will fear Napier's flashing Worsop Stebbing, for the 28-year-old is a man who truly 'gives' himself to the slog. Opening batsmen will do well to protect their stumps against his accurate new-ball bowling (nine of his 15 wickets in T20 this year have been bowled or LBW). The Stanford Challenge and a lucrative IPL contract beckon if form and self-belief hold.
Napier's very public career renaissance has been played out in the harum-scarum arena of 20-over cricket, where, conversely, he seems to have at last found some stability. The square base and clean hitting which have propelled so many balls boundary-ward demonstrate an uncluttered technique, and his role within the side now seems equally clear.
Amid such calm, fans of the Eagles will be hoping Napier can unleash another storm tomorrow.
When not fervently following Essex, Alan Gardner is a freelance journalist based in London
Posted in County cricket, Twenty20 | 4 Comments »