July 28th, 2008 by
JRod
in
International
,
Test cricket
and tagged
andrew symonds
,
champions trophy
,
cricket with balls
,
Jrod
,
the wisden cricketer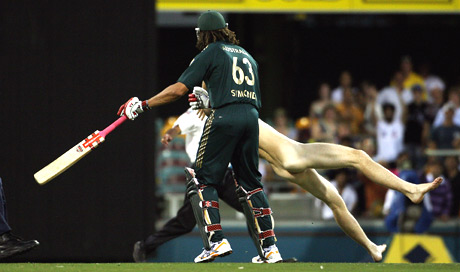 Being that this is my first post on the hallowed walls of TWC's blog, I thought I'd start with something uncontroversial: that players from predominantly white countries are scared of travelling to an Islamic country to play cricket.
You know, bombs 'n stuff.
Pakistan still harbours thoughts of playing home cricket games against white teams.
I still harbour thoughts about Natalie Portman.
Pakistan and myself need to get over these thoughts.
Australia isn't scheduled to go there until Ponting's new baby is old enough to get arrested.
Graeme Smith has mentioned his team's reluctance: "From the players' point of view, we do have major concerns with security in Pakistan."
This is the man who, during the IPL, stayed in Jaipur after 80 people were bombed into oblivion and lives in a country where barbed wire is not just for keeping horny bulls away from flirty cows.
The Jaipur bombs went off a couple of clicks from the team hotel, yet he stayed in the country, and in the city, until the tournament finished and the final cheque was cashed.
Cynical people, like me, may say that he would get paid a few more dollars for sticking around in Jaipur than he would for flying off to Pakistan.
That will always remain an unknown until Pakistan starts their own PPL.
That is unlikely as the cheerleaders would have to go and without cheerleaders Twenty20 is just backyard cricket with uniforms.
Andrew 'Roy' Symonds, an Australian, plays cricket like a virile gladiator.
But mention Pakistan and bombs and he turns into Bambi.
When Australia is to tour India, there will be no such concern, Roy will not mention anything about bombs, in fact there is a chance he thinks bombs only go off in Pakistan.
He will jump on the plane and get over there like he did when he was given a seven-figure cheque for the IPL.
Apparently the bombs in India aren't as loud as the Pakistani ones – the Indian terrorists should look into this.
Cricket is facing a major road-block if one of the major cricket nations, not one of the minnows like New Zealand, cannot be toured by people with a pale complexion.
We all remember what has happened when Pakistan has played at neutral venues, Inzi got spudded and Tubby Taylor made 300.
Both of these things were blights on the game and for the good of humanity should never happen again.
Jrod is an Australian cricket blogger, his site Cricketwithballs.com won July's Best of Blogs in TWC, and he'll be writing as dangerously as he's allowed for the next four weeks.
Posted in International, Test cricket | 23 Comments »