July 19th, 2008 by
John Stern
in
England
,
South Africa in England
,
Test cricket
and tagged
Amla
,
De Villers
,
flintoff
,
John Stern
,
Mickey Arthur
,
the wisden cricketer
,
vaughan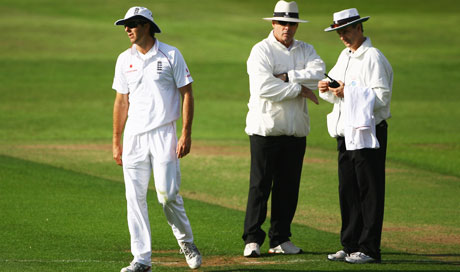 The crowd at Headingley might be half-cut and half-dressed – the back of the old Western Terrace was like the set of a Monty Python film – but they still know their cricket.
The chorus of boos that greeted AB de Villiers arrival at the crease was a well-observed, and well-deserved reference to a shocking piece of gamesmanship on the first day.
For Mickey Arthur, the South Africa coach, to claim divine retribution when Hashim Amla was recalled because Michael Vaughan had harangued de Villiers over the lunch table was one-eyed even by South Africa's cyclopic standards.
I thought Vaughan legitimately caught Amla. He seemed to catch the ball in is fingers and conceivably the ball may have touched grass but that is not the same as the ball being grounded. And it is certainly not the same as de Villiers' shenanigans where the ball clearly left his hands and hit the ground. I find it impossible to believe that he did not know what had happened.
The Amla 'not out' was a mess. I'm in favour of technology but you can't have a situation where the 12th man (Andre Nel) can effectively orchestrate the reversal of a decision by telling his team-mate not to leave the field. It was the same at Lord's last year when Kevin Pietersen was stopped in his tracks by his team-mates lobbying from the balcony.
TV replays do not always show clearly whether a catch has been taken and umpires should refer to them if they are unsighted. We can't have these half-baked retrospective referrals that undermine officials and create tensions between the opponents.
John Stern is editor of The Wisden Cricketer
Posted in England, South Africa in England, Test cricket | 2 Comments »