July 8th, 2008 by
Rob Smyth
in
England
,
South Africa in England
and tagged
bell
,
England
,
pietersen
,
smyth
,
South Africa
,
steyn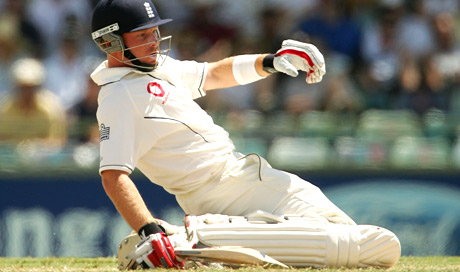 In the Shane Meadows film A Room For Romeo Brass, the estranged and beleaguered father of Romeo is trying to repair relations with his family when his nemesis Morell enters, whereupon he says with weary resignation, "Oh I need you, don't I?"
England's under-pressure top six might feel the same about the arrival of South Africa's pace triumvirate of Dale Steyn, Makhaya Ntini and Morne Morkel. But just as the presence of Morell ultimately offered Romeo's father the chance to get back to normal with his family, so the challenge of facing Steyn, Ntini and Morkel may just what England need: the shock therapy that wakes them from their slumber.
There is sufficient historical precedent to suggest that the considerable challenge of facing such aggressive fast bowling might get the juices and the runs flowing for England's batsmen. Inertia is unlikely when the ball is flying around everywhere and adrenaline starts coursing through the body. England's batsmen may not want to pick a fight, but if they are given the equivalent of a punch in the mouth, aggression might be the only natural response.
A similar thing happened in 1994. England came into the South Africa series in a one-paced rut after playing New Zealand. They were trounced at Lord's but by the end of the series, following the lead set by Graham Thorpe, they were flaying it everywhere. Even Phil DeFreitas and Darren Gough flogged Allan Donald all over the Oval. Graham Gooch and Mike Atherton added almost 50 in four overs.
This top six are certainly in need of some sort of cattle prod, because England have become the bores of world cricket. No decent side (i.e. everyone except Zimbabwe and Bangladesh) have failed to score at the benchmark rate of 3.00 runs per over in a calendar year since 2003, but so far in 2008 England are going at a lamentable 2.79 per over – and that exclusively against a fairly anodyne New Zealand attack.
The failure is both collective and individual: none of the batsmen are going at 50 runs per 100 balls this year, with Stuart Broad's 49.52 the highest. Some feel that the top six are suffering from post-Adelaide trauma, and that this has made them eschew risk completely, but if that is the case they have had an inverse and irrational reaction: it was an inexplicable passivity that prompted defeat in the game.
Pietersen is a particularly beguiling case. His strike-rate has fallen from 69.77 (2005), 65.28 (2006) and 60.95 (2007) to 48.42 this year. He has grown up as a batsman, but this isn't necessarily a good thing. The relationship between calculated risk and reward is well established, and it's probably no coincidence that England made such light work of chasing 294 against New Zealand at Old Trafford once Michael Vaughan had seized the initiative on the third evening with purposeful batting and increasingly rare urgency between the wickets.
It's all the more bewildering because naked aggression served England so well in 2005. Remember Andrew Flintoff slapping his way back into form with an almost absurd, beery 62-ball 68 at Edgbaston, or Marcus Trescothick's many jet-propelled starts, or of course Pietersen's astonishingly impudent 158 at the Oval. As Tim de Lisle pointed out, England are missing their biffers, but there are still richly talented strokemakers in Vaughan, Pietersen and Ian Bell. Yet it seems that everybody has decided to play the anchor role. England really do have too many Cooks.
Rob Smyth is a freelance journalist. Rob is part of a group running 10 miles (which is 9.9 more than he's ever run before) for the Laurie Engel Fund in London on August 31. To sponsor him, click here; to read why he's doing it, click here; or to join in the run, email Rob.
Posted in England, South Africa in England | 5 Comments »