September 3rd, 2008 by
Rob Smyth
in
England
,
One-day cricket
,
South Africa in England
and tagged
ian bell
,
rob smyth
,
the wisden cricketer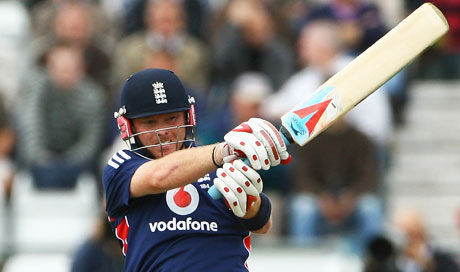 Any amateur psychologist will tell you that you shouldn't necessarily take gestures or comments at face value. The boy and girl at school who were ostentatiously arguing in the playground were invariably also making up and kissing behind the bikesheds. The man who is not openly ridiculed by his friends often has most cause to worry about his popularity.
The same rules apply to Ian Bell, who is probably criticised more than any of the current England team – but behind most of the criticism lies respect for, and frustration with, an abundant natural talent. Not since David Gower has an Englishman so gifted proved so exasperating. Bell will never elicit quite the same level of trust as more mundane, blue-collar batsmen like Paul Collingwood, because the nature of his talent is so unusual to us and more difficult to comprehend, but that does not mean his underachievement is relished. Quite the opposite. It is simply that many feel he does not have the will to go with his grace.
Two contrasting innings on consecutive Fridays in this one-day series summed up the Bell problem. In the first, at Headingley, he played execrably for a boundaryless 69-ball 35. In the second, at the Oval, he played exquisitely for 73 from 77 balls, with 11 fours and a six.
That innings was the only time to date, in 22 innings, that Bell had scored in excess of 90 runs per 100 balls while opening in an ODI – an appalling ratio and much more relevant than his oft-cited problem of converting one-day fifties (15) into hundreds (one). The issue seems not whether he has the requisite talent to do so, but whether he has the correct role. Paradoxically, Bell's role needs to be both tightened and freed up: the former in terms of exactly what he is trying to achieve and the latter in terms of the liberties he is allowed to take.
There has been much talk in this series of Bell being asked to anchor the innings, to bat through for 120 not out as Dessie Haynes once did; that perception was supported by the way he played at Headingley – and even more so by the way in which he went back into his shell at the Oval: having reached 58 from 43 balls, he then scored 15 from the final 34.
Yet the notion of the one-day anchorman is hideously antiquated. As average scores have got higher and batting line-ups longer, the desire to have somebody bat through the innings has not only been removed but also exposed as illogical. With eight batsmen and only 50 overs, it is logical to have punisher after punisher after punisher, each man looking to score at a minimum of 90 runs per 100 balls. Besides, why would you want Ian Bell batting in the last 10 overs when you could have Andrew Flintoff and Kevin Pietersen?
Similarly, why would you want somebody playing cagily at a time when there are significant field restrictions? It's akin to pecking someone on the cheek at an orgy. The Powerplay overs are Bell's time, when his class allows him to pierce or clear the field through orthodox cricket shots. In that thrilling innings at the Oval, he did not play a single stroke that would have looked out of place in five-day cricket.
Bell should not strive to be England's Dessie Haynes but their Mark Waugh and Sachin Tendulkar: a quality player given license to just go out and play. If he does that, the brickbats will disappear, and there will be only bouquets.
Rob Smyth is a freelance journalist
Posted in England, One-day cricket, South Africa in England | 8 Comments »