September 22nd, 2008 by
Alex Bowden
in
England
,
Miscellaneous
,
Test cricket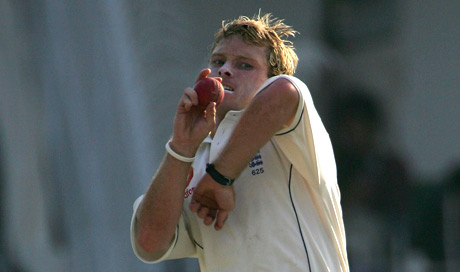 Ian Bell is not the best bowler in the world. Nor is he the worst – that would be Ajit Agarkar. But Bell never seems to bowl any more.
There was a period a year or two ago where England were encouraging their part-time bowlers to take that side of the game more seriously. It never really came to much under Michael Vaughan. Vaughan himself would have been a prime candidate for more overs. Regardless of his duff knee, he never really bowled himself enough. Remember him clean-bowling Sachin Tendulkar? Not many have done that. Kevin Pietersen, however, is showing some trust in his own occasional spin. Maybe that's just KP, or maybe some of the batsmen should start loosening up.
Paul Collingwood's rather better than an occasional bowler and Pietersen himself was originally a spinner before his batting took off – famously bowling Nasser Hussain while playing for Kwazulu-Natal – but Ian Bell's the forgotten bowler. Bell did quite a lot of bowling for Warwickshire one season, even taking 4 for 4 in one innings, but now nothing.
People usually mean pace, swing or spin when they call for variety in a bowling attack, but there are occasions when something a little unexpected can go a long way – even a few long-hops.
RMJ wrote about the perils of occasional bowling the other week and from our own experience playing squash, the better you're playing, the more dangerous the miss-hit. Sometimes it's the only way to strike a winner.
Ricky Ponting's over to Michael Vaughan in the 2005 Ashes springs to mind. It was gentle swing at best, but each delivery gave Vaughan a good long opportunity to think about each shot as the ball approached him. Thinking can be fatal for a batsman – and so it proved.
You have to draw the line somewhere though and recommending parental guidance for Alastair Cook's round-arm bowling action just wouldn't be sufficient. No one should be exposed to that – whatever their age.
See King Cricket's regular blog at www.kingcricket.co.uk. King Cricket is a cult figure in the world of cricket blogs and was TWC's first Best-of-blogs winner in April 2008.
Posted in England, Miscellaneous, Test cricket | 2 Comments »