September 16th, 2008 by
Rob Smyth
in
County cricket
,
England
,
Test cricket
and tagged
darren gough
,
England
,
rob smyth
,
the wisden cricketer
,
twc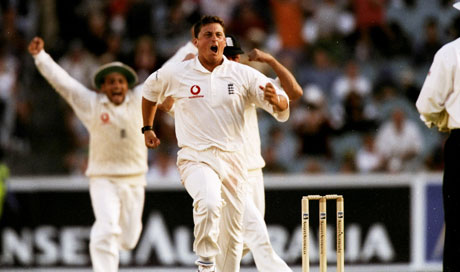 Anyone flicking through Marcus Trescothick's autobiography will be inevitably drawn to the more salacious sections at the back. Yet the front parts are arguably more interesting, particularly in Trescothick's cogent appraisals of the characters he played alongside for England between 2000 and 2006.
Perhaps the best is his assessment of Darren Gough, whose rich career will come to an end at his retirement party next week. "Goughy was the most instinctively clever bowler I ever played with," wrote Trescothick. "He could switch and change to suit the conditions. He seemed to have a plan and a ball for every batsman he came up against… In the way he was always probing for a weakness and, if he found it knew exactly how to exploit it; in the way he was always at you, he made think of how Shane Warne might have operated had he been a pace bowler… it was no coincidence that the pair of them got on so well."
The comparison is instructive on a number of levels. Gough, like Warne, deserves to be a national treasure. Yet if he is one, it is much for his moonlighting on the dance floor as his day job. Whereas some players' feats are accentuated by time – Alec Stewart is a prime example, given the miserable struggle to adequately replace him - there is a fear that Gough's are being diminished.
Part of that is because Gough, obviously in decline for the best part of five years, chose to fade away rather than burn out; his retirement party, called 'Going, Going, Gough!' should really have been called 'Going, going, going, going, going, going, going, going, going, going, Gough!', so drawn-out was his departure. There is also the fact that the success of the so-called Fab Four in 2004-05 inevitably obscures the memory of what went before. Yet Gough was statistically and actually superior to all of them: Harmison with heart; Hoggard with real nip; Jones with a new-ball threat; Flintoff with variety and a consistent wicket-taking threat.
England have not had a better fast bowler for 25 years, and arguably have never had a better all-weather bowler. Gough did it in all circumstances, most notably on the tour of Sri Lanka in 2000-01 when, as Scyld Berry put it, he went "round the brick wall of flat Asian pitches" to take 14 wickets at 19.57 in three Tests and spearhead a famous victory. He could rough batsmen up when he wanted – a brutal little spell to Hansie Cronje in the final hour of the dead Headingley Test of 1994 opened the door for Devon Malcolm to storm through in the next match at the Oval – or scalp them through force of personality. Like Warne, Gough loathed a meandering contest and would do anything to beg, steal or borrow a wicket. Off cutters, yorkers, leg spinners, bouncers, funny faces: Gough tried the lot. Had Strictly Come Dancing entered his life earlier, he'd probably have waltzed his way to the popping crease.
Despite his love of glory, Gough was genuinely selfless. In the Twenty20 international at the Rose Bowl in 2005, he eschewed the chance of a second hat-trick against Australia to ram a short one into Andrew Symonds, the first real statement of England's bruising intent for the summer. Gough's love of playing the Aussies was proof that no occasion was too big for him: he was a genuine sensation as a rookie in Australia in 1994-95 and took a hat-trick during the Sydney Test four years later. He became the first Englishman to master reverse-swing, becoming England's greatest one-day bowler, particularly at the death, as a consequence. All this while often carrying the timber of the common man. The bigger his waist got, the bigger his heart got.
A Test record of 229 wickets at 28.39 is very good rather than great, but Gough did play 33 of his 58 Tests against the two strongest teams of the age, Australia and South Africa. Against the rest he managed 112 wickets at 22.91. And it was all his own work: Gough never openly said, like Warne, that the coach was something that brought you to the ground, but you suspect that he had the same absolute faith in his own methods. Gough worked it all out for himself, and he did it better than anyone.
All of which makes it slightly odd that Gough has not been recruited to assist the next generation of bowlers, particularly in the fine art of death bowling. Whereas Warne's brain is perhaps the most prized resource in world cricket, nobody seems to care that much for Gough's opinions.
Perhaps Gough is seen as too frivolous a character, or someone whose love of a beer and a good time might not set the best example. Perhaps Warne is seen as being of quintessentially Australian stock, whereas in this country Gough is seen as simple folk, somebody who excelled but was not always entirely sure why. Either way, it is nonsense. Like Warne, Gough is blessed with a quite brilliant game intelligence, one that England would be foolish to ignore in years to come. For now, however, we should raise a glass or 12 to the sort of bowler we won't see it again in a hurry.
Rob Smyth is a freelance journalist
Posted in County cricket, England, Test cricket | 4 Comments »