September 15th, 2008 by
Alex Bowden
in
International
,
Test cricket
,
The Ashes
and tagged
andrew symonds
,
Australia
,
king cricket
,
the wisden cricketer
,
twc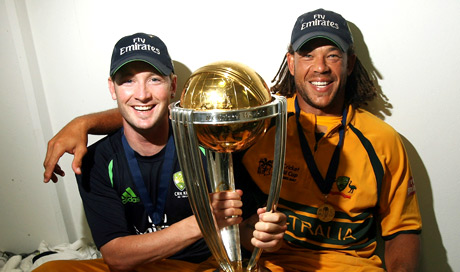 The Aussies are split as to whether Andrew Symonds is an arrogant head case who's alienating all his team mates with his obnoxious behaviour or whether he's a laid-back larrikin who's been victimised by a career-minded, holier-than-thou Michael Clarke. We're fortunate enough to be English, so we don't have to choose - in our eyes, both men can do no right.
Symonds was sent home from Australia's recent one-day series against Bangladesh after he missed a team meeting because he was fishing. It's important to underline that Symonds didn't go fishing knowing that he would miss this meeting. It was only called after he'd gone. This was deemed to be the final straw by the leadership group, but what were the previous weightier straws?
Malcolm Conn, writing in The Australian, believes Symonds has been suffering from an overdose of success, telling former teammates that they couldn't go into the Australian dressing room and once squaring up to Conn in a bar before being moved away by security.
Conn's colleague, Peter Lalor, describes a man who deems certain areas of bars to be 'Test players only' and who reacted petulantly to being fined $3,000 for missing a team bus to a training session while Australia were on tour in the West Indies recently.
"At the exact time of departure, Symonds' watch would beep and he would announce that the doors had to close and the bus had to leave and anybody left behind could walk or be fined because that was the way he was treated."
Symonds didn't actually miss any of the practice session after making his own way there and many people feel that Ricky Ponting, vice-captain Michael Clarke, coach Tim Nielsen and manager Steve Bernard were unduly harsh in fining him.
There's a feeling that this management team and Cricket Australia as a whole are so hell-bent on producing cricketers who are 100% committed that they're in fact making their side overly professional; that they're producing players without the sense of perspective and the rough edges that can be a strength in international cricket and life.
There seems a narrower perspective. You can't see this Australia side visiting Gallipoli as they did under Steve Waugh and some see an apparent lack of tolerance for individuals that is depriving Australia of a strong cricketer.
The whole Symonds issue has become emblematic of something more, with Symonds himself cast as the symbol of old, knockabout Australia and Clarke representing the new '100% committed' Australia. People are picking sides, but the truth, as always, is somewhere in between.
We've already stated our position. Hopefully both men will appear in the 2009 Ashes, because while sport needs its heroes, a good narrative also demands villains.
See King Cricket's regular blog at www.kingcricket.co.uk. King Cricket is a cult figure in the world of cricket blogs and was TWC's first Best-of-blogs winner in April 2008.
Posted in International, Test cricket, The Ashes | 8 Comments »