September 11th, 2008 by
Robin Martin-Jenkins
in
County cricket
and tagged
mushtaq ahmed
,
rmj
,
sussex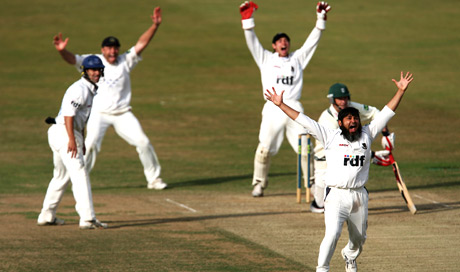 Sussex and our supporters said a sad farewell to Mushtaq Ahmed in a short ceremony during the tea interval of our recent match against Notts. Chris Adams was virtually in tears during his short speech and it was a strange feeling going out to field knowing that we'll never be able to see him in action again.
He was the most successful overseas player Sussex has had, possibly their greatest ever player. Cricket historians will find bowlers that took more wickets, at a better average, for a longer period of time, but surely none who have made such an impact – turning Sussex from a frustrated club of also-rans into County Champions three seasons out of five.
I first came across Mushie when he was playing for Somerset in 1995. It was my second Sunday league match and Mushie had bowled Somerset to a convincing victory in the preceding four-dayer. I hadn't played in that match but he was the talk of the dressing room when I arrived on that Sunday morning. His googlies and topspinners were hard enough to pick but at one point he had taken to shouting out "legspin", or "googly", as he let go of the ball, to help the batsman out. Of course, some calls might have been correct but some were clearly not.
When I came to bat on the Sunday, a callow 19-year-old straight out of school (where the most threatening legspin I'd faced usually bounced twice), Mushie didn't need to call out to put me off (the umpire, Merv Kitchen had put a stop to him doing it anyway).
A fizzing legspinner ripped past my forward prod first ball. I can still clearly recall that extraordinary sound as the seam ripped through the air. What happened next is something I have since seen a 100 times since. Rob Turner, Somerset's keeper, said something like "we all know what happens next boys". I didn't have a clue what he was on about. Down came the next delivery. I couldn't believe my eyes when I saw it was short and wide outside the off stump. I thought they said this guy was a genius? As I shaped to cut and get off the mark with a glorious four past point, the ball dipped and ripped back past my back foot. I think my bat was still at the top of its back-lift, MCC coaching book style, when the googly cannoned into middle stump.
When I returned to the dressing room, my team-mates were stifling giggles. "Didn't see that one coming" said one of them helpfully. My reply can't be repeated on a family website …
Eight years later Mushie would make his debut for Sussex; an unglamorous fixture against Cardiff University. No matter, it was still satisfying to see at least three of their batsmen suffer the same fate as I had eight years previously. Since then he has taken over 450 first-class wickets and made many fine batsmen look stupid when they've padded up to the famous googly. I think I've lost count of the amount of times I've walked past the dismissed batsman and said: "I didn't see that one coming … "
2008 is Robin Martin-Jenkins' benefit year, visit www.rmj2008.co.uk for further details.
Posted in County cricket | 1 Comment »