July 2nd, 2009 by
Sam Collins
in
Interview
,
Miscellaneous
,
The Ashes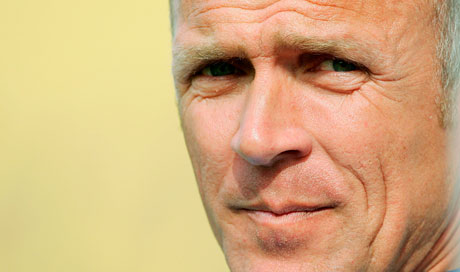 Alec Stewart is England's most capped Test cricketer, with 133 appearances to his name. Initially a dashing opening batsman, he became a wicketkeeper of some repute, and now works as a summariser on Test Match Special. He was speaking to Sam Collins at the Ladbrokes Ashes launch.
Did you feel at all sorry for James Foster going back to county cricket after the World Twenty20?
I thought he kept very well. I'm a big fan of Fozzie. I know Fozzie, I've toured with Fozzie. I think he's the best gloveman in the world. But if you asked him he would say for the balance of the Test side then there are other people who should play. Matt Prior is a good performer. He's got a record behind him. So do I feel sorry for him? It's just the way the modern game has gone. You've now got to be a top batsman and a top keeper. I can't say I'm his biggest fan because – that's Graham Gooch down at Essex – but I know how good Foster is. But how you get him in the side?

Does Foster know where he stands in the England set-up?
Well he knows he's not in the Test side. The days of an out-and-out keeper are not there. Bob Taylor, for example. Wonderful, wonderful keeper but a No.9 bat. He wouldn't play in the England side now because of the balance of the side, which is sad because it's an art. So Fozzie has just got to keep churning out runs for Essex to say, 'right, not only am I a world-class keeper but I also can bat at No.7 in the Test side'. And that's what he needs to do.
Would you play Steve Harmison this summer?
I'm a Harmison fan. I reckon I'm his biggest fan in the country. Would I pick him now? I'd definitely have him in the squad. I'd have definitely picked him in that 16. Because he can turn a game.
Do you see Ravi Bopara as a No.3?
When I first saw him at Essex and he was picked to bat at No.3 for England, I had my reservations. I thought he may have been a No.5. Having now seen him first-hand against the West Indies, I've been converted. There aren't many cricketers that have the x-factor – but I think he's got it.

Is Shane Warne just trying to get under Ravi's skin?
Warney loves a headline doesn't he? I don't know why we go to the Australians and ask them for their opinions on our cricketers. The Australians don't do that with us. We're never asked by an Australian newspaper what do we think of Phil Hughes or Brad Haddin. Of course you're going to knock the opposition, try and dent their confidence. Ravi Bopara to me is a talent and someone who will have a very, very big international career.
So what would your plans be to Phil Hughes?
Whatever the plans are, you've got to see them through, you've got to deliver them. Andrew Flintoff around the wicket bowling a tight line over off stump with an off-side field, like the Gilchrist field. Two gullies, a cover just behind and cover just in front. He looks a big off-side, square-of-the-wicket player. Flower and Strauss will have examined him. Strauss has seen him at first-hand for Middlesex. But you can have all the plans in the world but you've then got to go and execute them.

Do you feel sorry for Michael Vaughan regarding the manner in which his career has ended?
I'd just like to thank him for everything he did. He was a wonderful leader. He took English cricket forward, not just over the Ashes but when he took over from Nasser, straight away. Having played under him for three or four Test matches he looked a natural leader, a good man-manager, good with people, good with players. He offered English cricket so much with his captaincy. In 2002-03 he was the best player in the world when he took on Australia. He got runs against India as well.
Were you always a keeper?
No. I always batted. I started keeping at the age of 16. And I signed at Surrey as a batsman who could keep. And that's how my career went. I always started off in the sides that I played for as an opening batsman or No.3 – but then the balance of the side … Graham Gooch wants Foster in the England side now – he was the one who dropped Jack Russell and said right you're batting at No.3 or opening, you're also going to keep wicket because the balance of the side enables us to get another batter or bowler in.
How did you deal with it?
I always worked on my keeping. As a cricketer you need two strings to your bow. My biggest problem was one series I was a batter, then they'd want me to keep for the last Test match of a series, then I'd go back to opening the batting. So there was no continuity until '97. And that's when David Lloyd and Athers said, 'right, you are the keeper'. I thought, right, I'm now a batsman, I'm also a keeper and I focused on those two jobs with equal amounts of practice and preparation. You've got to know what your roles are. You want clarity from the people up above.

Who's got better banter behind the stumps, you or Prior?
The banter's over-rated. Everyone should be encouraging his team-mates. I'm not a fan of the stump mic. For a neutral or a punter it's good. But I just believe what goes on the field stays on the field. And your job is to catch the ball and make sure your team-mates are geed up. But that goes for anyone whether it's the keeper, fine-leg, first slip, mid-off or whatever.
Did you find it difficult hearing yourself on the stump mic?
Oh I used to turn the mute button on. Because it's dull. To me it's dull. At the time you're saying what you believe should be said to gee up your team-mates and to encourage your team-mates. But the number of times I've sat there watching highlights and I hear 'bowled Crofty' or 'bowled Gilo', things like that. It's not the most exciting thing to have to listen to.
Who's the most difficult bowler you remember keeping to?
Saqlain Mushtaq when he first arrived at Surrey, not being able to pick his doosra. For the first two months that was hard work. And anyone who makes the ball wobble past the stumps. The ball doesn't rotate and it does all kind of things. Harmison can be hard, Gladstone Small used to make the ball wobble about. So they're the hard ones where you think you're catching the ball and just as it gets to you, it can hit you on the shoulder. What the ball does between the stumps until it reaches the keeper when you're stood back isn't always picked up by the TV or by the watching public.
Sam Collins is website editor of The Wisden Cricketer
Posted in Interview, Miscellaneous, The Ashes | No Comments »