July 8th, 2009 by
TWC
in
England
,
Test cricket
,
The Ashes
and tagged
ashes
,
England
,
harmison
,
onions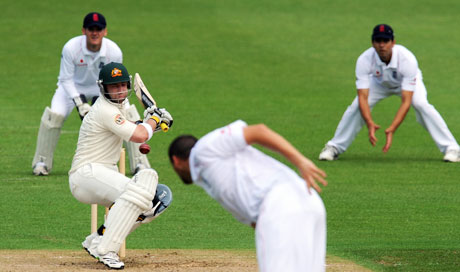 It's the first morning of the Ashes, and regardless of whether or not England choose two spinners in Cardiff one man will not be there. Despite his impressive performance for the Lions against Australia last week, the selectors decided against bringing Steve Harmison back into the England team, believing that his county colleague Graham Onions had done enough to keep his place. But was it the right decision? Our panel debate, and throw in their Ashes predictions for free.
Edward Craig
Assistant editor of The Wisden Cricketer
No. Harmison is bowling well – he is one of the three best seamers in the country at the moment and should play. The Australians will be pleased to see his omission. It is good news for Durham, so that's a sliver of silver lining (being a Durham fan).
I hope England only play one spinner. And Australia to steal a tight, dull series 2-0.
Daniel Brigham
Assistant editor of The Wisden Cricketer
Probably not, but I can see why they did so. Harmison looks in terrific form and, more importantly, it seems his want-away mind is in the right place this summer. Yet, for the sake of consistency, England were right to allow Onions the chance to continue his good form and, although Harmy roughed up Hughes, you can expect Broad and Flintoff to be able to extract just as much bounce and at the same pace.
The teams appear so well matched that I'm going for home advantage. 2-1 England.
Benj Moorehead
Editorial assistant of The Wisden Cricketer
Yes. The best thing about Andy Flower is that he is doing away with the cosy club (we wait to see his verdict on central contracts). There is a difference between forging a team with a healthy club-based mentality and allowing players to feel so integral to Team England that their place is virtually guaranteed. Flower has bucked the trend with his fresh outlook, bringing Onions and Bresnan into the set-up and asking Harmison to earn his place. There is a positive sense of meritocracy about England over recent months. Harmison's omission reflects this. In more specific terms, Harmison's recent form has made him a strong candidate for selection, but a low, slow pitch at Cardiff will be better suited to the full-length of Onions (54 first-class wickets @ 16.70 this season). However two spinners turning it either way may be the best option. Harmison's time will surely come in this series.
Ashes prediction: 1-1. On the basis of three things: that batsmen will fair better than bowlers, thus producing some draws; that both sides are affected by insecurities (at least more so than in 2005) and may struggle to force through victory; and that the teams are evenly matched.
Will Luke
Assistant editor of Cricinfo.com
Yes. He's done his bit and done it very well, but Onions won't go at four-per-over. Neither will he break Katich or Hughes's jaw, but he is the man in possession and has done enough in his short career to justify holding onto his place. Flower, a bit like Fletcher, comes across as fiercely loyal and fiercely stubborn (a Zimbabwean trait?), but the moment one of Anderson, Broad or Onions looks off colour, Harmison should return. England have variety, depth and lots of options to their attack; Australia's is samey and, without Lee, a little toothless. Much depends on the match-ups: Ponting v Strauss; Haddin v Prior; Johnson and Broad's lower-order runs.
2-1 to England, but only by the wispiest of whiskers.
King Cricket
Blogger and Rob Key fan
It might work out well if it keeps him keen for matches later in the series. We'd like to see him at some point.
5-0 England. There is no conceivable way that they won't win each and every Test, even if it rains, even if half the team get injured, even if they don't make it past 150 in the entire series.
Sam Collins
Web editor of thewisdencricketer.com
Who would the Aussies least like to face bar Flintoff? It's Harmison, so to that end his omission is a mistake, however understandable with all the baggage he carries. His form is not an issue come July in an English season, all he needs is overs and he's had them. He will definitely feature at some stage, let's hope it's not when it's already too late – the selectors' failure to pick him until late last summer cost us the series against South Africa.
2-1 to England, provided we pick our best pace attack for the majority of the series.
Posted in England, Test cricket, The Ashes | 2 Comments »