July 9th, 2009 by
Sam Collins
in
England
,
Test cricket
,
The Ashes
and tagged
ashes
,
sam collins
,
Test cricket
,
the wisden cricketer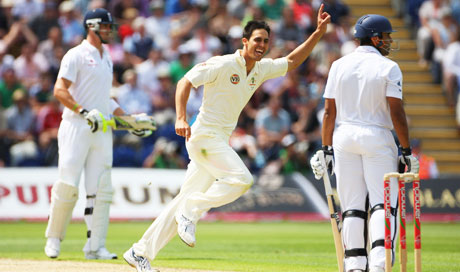 What can you tell from a day and a half? Not much admittedly, so I'm fully expecting these to have been proved wrong by the time you read them….
1. Cardiff is not the easiest place for the quicker bowlers to bowl, as Mitchell Johnson and Stuart Broad in particular have struggled initially to find rhythm. Keith Exton has admitted that work has been done to try and level the bowler's approach to the square, and Johnson has been making holes with his landing foot in the new turf – it may be that the run-ups are still providing problems for the quicks.
2. The more runs Graeme Swann scores, the more dispensable Stuart Broad becomes. It was only a year ago that Broad struggled to take wickets against South Africa, and while progress over the last year has been pronounced it could be that his promotion from fourth seamer to opening bowler has come too soon. Would England play three hit-the-deck bowlers in Broad, Steve Harmison and Andrew Flintoff in the same side? If Broad finds wickets hard to come by and a cutting edge is needed with the Ashes at stake then there may be a decision to be made.
3. It won't matter if Mitchell Johnson doesn't swing it. His seam position might be all over the place, but his slower ball is proving hard to pick up and his bouncer is straight, quick and difficult to evade. Expect him to be even more of a threat when the pitches get quicker at Lord's and The Oval.
4. Graham Onions may yet have a big part to play in this series. England's initial overs to Phillip Hughes and Simon Katich were far, far too wide, and Onions is a man who gets close to the stumps and denies the left-handers width. Australia have four of them in their top-six, and if Onions' cramping role in Harmison's dual-dismissal of Hughes at Worcester did not escape Duncan Fletcher then the England selectors won't have missed it either.
5. Like 2005, runs are going to be scored pretty quickly. The series may not be as close as four years ago, but it won't be dull watching.
6. Andrew Flintoff is England's best bowler by a mile. Watch that ankle.
Sam Collins is website editor of thewisdencricketer.com
Posted in England, Test cricket, The Ashes | No Comments »