July 9th, 2009 by
Alan Tyers
in
Alan Tyers
,
England
,
The Ashes
and tagged
ashes
,
England
,
Test cricket
,
The Ashes
,
the wisden cricketer
,
vaughan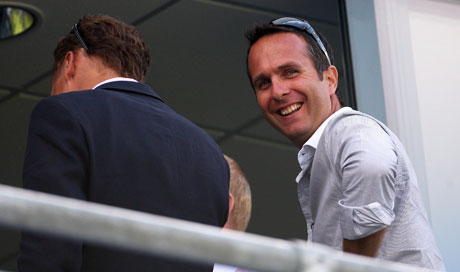 Standing in the garden, I assess the scene. Move that sun lounger forward a few feet? Get it in the line of sight from the barbeque? I add another deckchair to the ring.
The mobile goes.
"Hello Duncan, I've got a few plans I wanted to discu—"
"Never mind about that," he says. "TWO spinners in that team and no room for Gilo? It's a disgrace. I've phoned Flower but no reply. I expect Flintoff stole the team sheet when he was drunk and altered it. He used to do that all the time."
"Are you sure about that?" I say. "You never mentioned anything at the time."
"Of course I'm sure," he says. "He often used to turn up to practice dressed as Darth Vader, in a shopping trolley, being wheeled around by Harmison, drinking Pina Coladas. I kept it quiet at the time, in the interests of the team."
"I don't remember any of this, Duncan," I say.
"Well, he did. In Durban, they had to shut down the entire city water system. Flintoff broke into a reservoir, poured Malibu and Pineapple into it. And ricin. Only the intervention of young Geraint Jones prevented a tragedy. Of course, I hushed it up at the time."
"Look, Duncan – about these plans," I say.
"I'm writing a book, you know," he says. "It's all going to come out. They can't suppress the truth for ever."
"Duncan," I say. "Focus. How can we combat this young lad Archie?"
"Tricky one," says Duncan. "Good young bowler. What is he now? Two and half? Three?"
"Three," I say. "I think he's got my number, Duncan."
"Have you tried the forward press?" he asks. "It's good, the forward press."
"He's too lively," I say. "He's at you all the time."
"Extreme pace is very hard to combat," he muses. "Can he reverse it?"
"He's just starting to get it to go. He cleaned me up the other day. I told the media it hit a weed but to be honest I didn't pick up the swing."
"Hmm. Extreme pace and reverse swing? There's only one thing to do," he says. "I should wait for him to get injured."
I hang up. Put in a short extra deckchair, move a few flowerpots around. Tallula comes into the garden. I don't want to stand in her way, hinder her development. Maybe let her face Archie instead? Yes. That's best for everyone.
Alan Tyers was feeding the bowling machine in Michael Vaughan's back yard
Posted in Alan Tyers, England, The Ashes | 1 Comment »