July 13th, 2009 by
Jrod
in
England
,
Test cricket
,
The Ashes
and tagged
Ashes 2009
,
England
,
hauritz
,
Test cricket
,
The Ashes
,
the wisden cricketer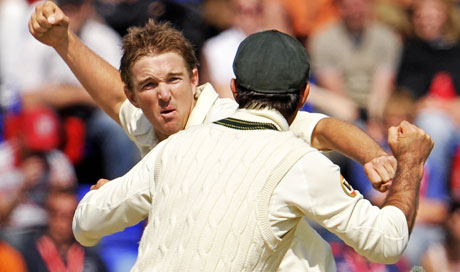 Is Nathan Hauritz better than England?
Yes.
He took six wickets.
They took five (Brad Haddin, caught at deep-midwicket slogging pre-declaration, doesn't count).
England shouldn't be embarrassed though, Hauritz is the best club spinner in Sydney on the days Greg Matthews is filming a hair loss commercial.
Hauritz outplayed England in almost facet of the game: he only misfielded three balls, England did way more than that, and he didn't play one stupid shot in this match. Compare that with England.
I now understand King Cricket's article about Australia's batting being boring, he is used to the faster rotation of batsmen.
England batsmen tend to think the game is getting boring, time to hit the ball into our helmet. Or we're playing for a draw, but I bet the crowd would like me to cut this ball out of the rough.
Australia went for another tactic, total annihilation of England's bowlers. Revolutionary. It must have worked as on the fourth day England didn't even come out on the field, instead Adidas sent out cardboard cut-outs, and Paul Collingwood.
That wasn't the only radical tactic England tried, they also reversed the batting order. Why waste the straight bat of Montybot or the brilliant playing inside the line of Jimmy A on the new ball when you can save them to the end to win the draw? I assume England won the draw, what with the fist pumping and uniformed smiles.
As an Australian, the match slowing tactics particularly impressed me. Two sets of gloves and a moob-heavy physio doing a Bo Derek impression. It was great. Australia are obviously protectors of the spirit of cricket (we keep it in Merv Hughes' moustache) and are above any sort of stretching of the rules.
This was never more evident than when TWC blogger Peter Siddle accidentally hit Graeme Swann for the fourth or fifth time, and he went down to say, "Sorry mate, hope you are ok, after all cricket is just a game and I wouldn't want to hurt you".
Graeme Swann then let go with a torrent of expletives that not even the foul-mouthed Robin Martin-Jenkins would use. But what can you expect of the English, filthy savage wild bunch that they are. Nathan Hauritz has never uttered a swear word; if he does his mother will cancel his pocket money.
Jrod is an Australian blogger, and now author. His book The Year Of The Balls 2008: A Disrespective is available now
Posted in England, Test cricket, The Ashes | 5 Comments »