July 15th, 2009 by
Lawrence Booth
in
England
,
Test cricket
,
The Ashes
and tagged
Australia
,
England
,
lawrence booth
,
Test cricket
,
The Ashes
,
the wisden cricketer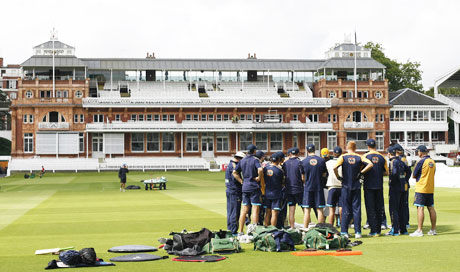 It used to be said that England were always hopeless at Lord's. And it used to be true: between 1979 and 1999, when they lost to New Zealand, England won six Tests out of 30 there and lost 12. During Duncan Fletcher's reign things changed: eight wins out of 14 with only three defeats. Since then it's been four draws on infuriatingly flat pitches, plus the recent victory over West Indies. But while England's record at Lord's has evolved, Australia's hasn't. They just keep winning. Hell, they even won at Lord's in 2005. But we digress…
You will read a thousand times between now and Sunday – so let's get it over with now – that England have not beaten Australia there since 1934. (The English will use the fact that Don Bradman was twice dismissed relatively cheaply by Hedley Verity as some form of consolation, but pay no attention to the ruse.) Since then it's been nine wins for Australia and nine draws, a sequence that has become an anomaly even in the context of recent Ashes drubbings.
What on earth has been going on? To be at Lord's yesterday was to gather evidence at every turn. Merv Hughes, moustache greying these days and a gentler figure with no Graeme Hick around to enrage him, pointed out that Australia only get to play at Lord's once every four years. But then the same applies to pretty well everyone else, so no cigar for Merv.
A tour party of wide-eyed Australian fans dutifully followed a guide around, lapping up every historical nugget. "The thing about the Nursery End, madam…" said the green-jacketed MCC sage, before telling her the thing about the Nursery End – and madam could not get enough of it.
The sense of wonder extended to the players. Peter Siddle, Australia's interview nominee for the day, declared that his two dreams as a child were to play in the Boxing Day Test at Melbourne (he was born in nearby Traralgon) and an Ashes Test at Lord's. Encouraged by an Australian reporter to explain his feelings upon seeing the old place for the first time, he duly trotted out all the hyperbolic adjectives. And it looked as if he meant it too.
Of course, Australia's ingrained desire to stick one over the Poms is amplified at Lord's, with its pomp and circumstance – not to mention the fabled honours board which triggers the Australians' acute sense of competition and history (a subject that seems to encumber the English instead of inspiring them). But, again, you could hardly argue Australia try less hard elsewhere.
Perhaps Ricky Ponting came closest to the truth yesterday when he told Australian journalists that their record at Lord's has become a self-fulfilling prophecy, both for Australia and England. The more Australia win, the more they expect to – and the more England expect to have their noses rubbed in it.
Something similar applies in reverse to The Oval, where Australia have won only twice since 1948. But The Oval has always been the final venue of an Ashes series, whereas Lord's – traditionally the second Test – greets a fit and fresh touring side. By the time they reach The Oval, thoughts are turning to home. Thoughts today are turning to a more potent kind of home: the home away from home that threatens to send Australia to Edgbaston with the series lead they already deserve.
Lawrence Booth writes on cricket for the Guardian
Posted in England, Test cricket, The Ashes | 1 Comment »