July 15th, 2009 by
peter siddle
in
Test cricket
,
The Ashes
and tagged
Ashes 2009
,
Australia
,
peter siddle
,
Test cricket
,
the wisden cricketer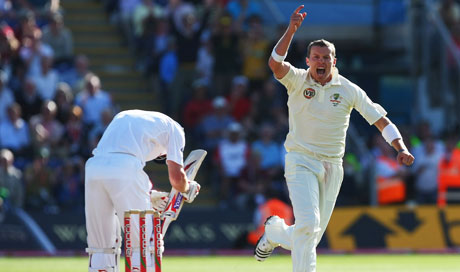 I enjoyed my battle with Graeme Swann in the first Test. It was the excitement of the moment and the clash – that's the way I play. I bowl my best when I'm fired up so I like to get in the batsman's face and get a contest going. There were a few words said, along the lines of 'I am hoping to get you out!'
We noticed he liked to get on the front foot in the first innings, so we thought we'd look for a weakness against the shorter stuff. I was unlucky – on a bouncier pitch those balls that hit the glove might have gone to hand. Short balls can be a great way of working the batsman over but I didn't get the wicket, and he toughed out a few balls, which was what they needed. Still, he's got eight more innings in these Ashes so hopefully I can get a few more on the body and we'll see how he goes.
I'm feeling good going into this Lord's Test. Sunday was a tiring last day in Cardiff, it was tough on a flat wicket and we had to charge in and give our all. To be one wicket short was frustrating but we're feeling good now and I'm looking forward to getting into the next game.
When I got Paul Collingwood I was confident I could go on and finish the job for the team, so I'm disappointed that I couldn't get that last wicket and leaked a few runs.
Collingwood's dismissal was a range of emotions for me. I saw it catch the edge and I was up to celebrate but then I saw Mike Hussey parry it into the air and everything stopped while I waited for him to get his hands around it. Collingwood had dug in for six hours and to get him at that stage and know that there were just the two tailenders left – the adrenaline was amazing.
And I thought I'd cleaned up Monty Panesar first-up to win the game – I came round the wicket and beat him, it was so close but ultimately so far. I kept steaming in but we couldn't break them – they did well to hold out for the last 11 overs.
A lot has been made of the time-wasting but I'm not fussed. They knew how much time was left and the 12th man coming out with gloves was just a tactic to slow the game down. It's going to happen as long as the rules allow it – it's part of cricket. There was nothing in the collision with Stuart Broad either. He'd edged one and was running down the wicket and we were both watching the ball but the commentators seem to think it livens up the game by talking about it.
I've seen the slo-mo's of the ball that got Ravi Bopara in the throat on day one, it's a nasty looking ball but fortunately for him the wicket was slow even on the first day. I like to make myself known to the top-order batsmen early on. I did the same against South Africa, and my first ball in Test cricket was a short ball that hit Gautam Gambhir on the head. I hit the wicket hard, generate bounce and am not afraid to bowl the short ball, as you've seen. And the Welsh crowd seemed to enjoy giving me stick but it was nothing I haven't heard before.
Mitchell Johnson was not quite where he wanted to be in Cardiff but it's a long tour and I know he'll come good soon. He missed the first tour match in Hove, and he is one of those players who gets better the more he bowls. We didn't want him overdone now and exhausted for the last few Tests but by the end of this Test I'm sure he'll be back to his top speeds and in the groove. Brett Lee will be fit and ready by the end of this Test too, so it's a good problem for the selectors to have. It keeps the pressure on us too and will help us bowl better knowing we have to perform to stay in the side.
England's top-three failed in Cardiff but they have all made a lot of runs in the last few months and we know they are good players. We have a different attack to West Indies though, so hopefully we can get a hold over them. That top three have been the foundation for England's big totals, so if we can get them cheaply and get into the middle-order then that will be the key. Kevin Pietersen may be under pressure but he seems to thrive on that – he always likes to give the impression of being laid-back, cool, calm and he loves being the centre of attention. He does play the game differently to others but his Test record is exceptional and he can tear an attack apart. We need to watch out for him.
Our batsmen have talked about the threat posed by Jimmy Anderson and Freddie Flintoff, especially when Fred doesn't have a big workload, so that was important for our batsmen to keep him out there for as long as possible in Cardiff. The first hour or two he was bowling with real pace and bounce. If Steve Harmison doesn't play at Lord's it will probably be more of a surprise for us but we know what to expect from him having seen him at Worcester. He's had a lot of success against Australia, and he's in great form at the moment.
I'm looking forward to playing at Lord's – ever since I was a kid in Victoria the dream has been to play a Boxing Day Test at the MCG and an Ashes Test at Lord's. I achieved the first one last year and I can't wait to run through the Long Room on Thursday – it's a great honour at such a young age. I was having a look at the honours board yesterday and it would be great to get my name up there, but I'll concentrate on getting my first wicket for now! Glenn McGrath has talked to us about bowling on the slope, it will take getting used to but you still have to go about your game as normal.
The wives and girlfriends are still with us. It's great for me, it helps me to relax when I'm away from the game to spend time with my girlfriend and see new faces so I'm not thinking about tactics the whole time. London's a great place, I've enjoyed getting out and having a look around and a shop. I'll be taking my credit card with me to Lord's though, just in case my girlfriend gets bored of the cricket and has the same idea!
Peter Siddle is blogging for thewisdencricketer.com throughout the Ashes
Posted in Test cricket, The Ashes | 2 Comments »