July 17th, 2009 by
Alex Bowden
in
England
,
The Ashes
,
The media
and tagged
ashes
,
king cricket
,
mitchell johnson
,
Test cricket
,
the wisden cricketer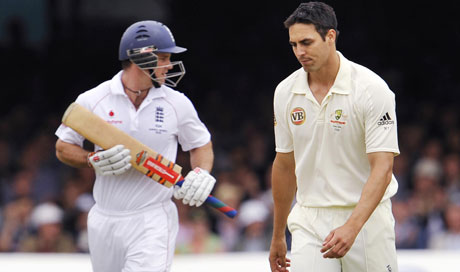 Yesterday, someone arrived at kingcricket.co.uk after searching 'what shoes does Mitchell Johnson play in'. We have no idea, but we'd guess that he wears oversized clown shoes, such was his co-ordination yesterday.
Balls were going all over the place. It was as if Johnson were Devon Malcolm and Steve Harmison's bastard offspring. We enjoyed it immensely. Maybe he wanted to give his team mates an opportunity to explore every corner of Lord's and so offered them a never ending quest to recover the ball from beyond the boundary rope.
People had various ideas as to what was going wrong. It was the Lord's slope; it was his low arm; it was his wrist position; it was nerves. We think we know the real reason. Has anyone, at any point, gone up to Mitchell Johnson and asked him whether he's absolutely certain that he's left handed? We're pretty sure he's not. He bowled much as we would if were forced into kack-handedness by some wrong-headed sadist.
Bowling from the other end was Peter Siddle, who we've also warmed to, but for entirely contrasting reasons. This is a man who's clearly read the fast bowlers' handbook from cover to cover and is now living the role to the full. Add warpaint, get angry, look like you've just killed a man when you take a wicket. Australian fast bowlers should act like that. It makes it easier to dislike them, which, after all, is the whole point of Australian fast bowlers. Peter Siddle is doing this job so brilliantly that paradoxically we now find ourself liking him immensely.
We're led to believe that Ben Hilfenhaus and Nathan Hauritz are also bowling in this match, but we're yet to see any evidence of that. We've a vague memory of Hauritz suffering some kind of hideous finger injury, but you don't need to play Test cricket to have that happen to you. Mind you, if it helps him bowl some exquisite wide long-hops, a la Mitchell Johnson, we might start paying more attention to him.
King Cricket blogs at www.kingcricket.co.uk. He is a cult figure in the world of cricket blogs and was TWC's first Best-of-blogs winner in April 2008.
Posted in England, The Ashes, The media | 12 Comments »