July 21st, 2009 by
Sam Collins
in
County cricket
,
England
,
Interview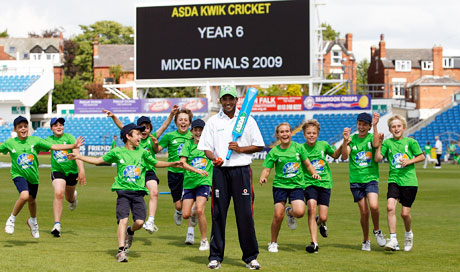 Adil Rashid plays for Yorkshire, and was part of England's squad for the recent World Twenty20. He was speaking at the ASDA Kwik Cricket National Final at Headingley. The ASDA Kwik Cricket competition is driving 130,000 boys and girls from 12,000 Primary Schools across the UK to get healthy and active through cricket.
How have you enjoyed being part of the England set-up over the last year or so?
Going to India and West Indies with England has been a great experience for me, and being involved in the World Twenty20 as well.  Playing with the likes of Andrew Flintoff, Kevin Pietersen and the others has been great fun.

How difficult was it being on tour and not playing much?
It was quite difficult but you have to work through it. A lot of players have been through the same thing. Even though I wasn't playing being part of the team for nets and the fitness was an amazing experience. If I needed any advice or tips I would ask the more senior players and they were very helpful. I worked with quite a few players but mainly Owais Shah and Ravi Bopara on my batting and other little technical things. You learn something every time you play with England.
What have you learned working with Mushtaq Ahmed?
It's been a big help. I've been working with Mushy quite a bit, and I spent a lot of time working with him in the West Indies. He's been teaching me how to work on batsman and about my body language.
How do you see yourself at the moment, as an all rounder or a legspinner who bowls?
I think my main aim at the moment is bowling ahead of the batting.
Does Andrew Flintoff's retirement create a hole in this England team for you?
It's disappointing for Fred to have had to announce his retirement, but no, I wouldn't say that it creates a hole for me.

Does the anticipation and hype around you faze you at all?
No not really. I just want to concentrate on my cricket whether it's playing for Yorkshire or England. It doesn't make a difference to me what's in the newspapers. I try to take that out of my mind and focus on my cricket one day at a time.

What can Twenty20 cricket teach you as a legspinner?
With the batsmen coming at you in search of boundaries, as a bowler you have got to know what to bowl, when to bowl and what fields to set.  It teaches you how to come back the next ball after being hit.

How did you feel when Paul Collingwood gave you the ball against West Indies in the T20 World Cup even though they were chasing a reduced target?
It gave me a lot of confidence when he threw me the ball and told me to just bowl, and it came out well. It was a real boost that he had confidence in me to get a wicket and that's what I did.
How important is it for a young legspinner to have a captain who understands your game?
It's really important for the captain to know what sort of bowler I am and what kind of fields I need and what I am thinking. That is crucial.
Who has been the biggest influence on your career?
I've been working with my dad since I was a youngster. I've also worked with people like Terry Jenner, Dave Parsons and Steve Oldham but my dad has had the most influence on me. My father taught me how to bowl legspin, but as I get older I have developed my own style and visited different coaches. That's what happened?
Why is it that so many young legspinners fall by the wayside?
Some people just give up and don't fight on through the difficult times. Being a legspinner is hard – I think you have more bad days than good days in general. It just depends on the individual.
So is being mentally strong a key part of succeeding as a spinner?

Definitely. I think you have to be mentally strong – even if you get hit for four sixes you can't be weak, you can't be thinking negatively.
Are you an attacking legspinner?
Definitely. A legspinner is an attacking option who is going to go for a few runs but has a lot more chance of getting a wicket than a finger-spinner. As a legspinner you are always going to get hit, but you are more likely to take a wicket than an offspinner because of your variations – your googly, your slider and so on.
Terry Jenner said that he doesn't believe legspinners mature until they are around 23. Is he right?
Terry's worked with Shane Warne, the best legspinner the world has ever, throughout his career so I think you can believe what he says.
Have you had any advice from Shane Warne when you've played against him?
I've played against him a couple of times for Yorkshire against Hampshire and I made sure I spoke to him and got a few tips off him.  He was a great help and it would be nice to work with him again in the future. I would love to have a proper session with him and pick his brain about what he thinks when he bowls and how he responds to different situations.

Sam Collins is website editor of thewisdencricketer.com
Posted in County cricket, England, Interview | No Comments »