July 22nd, 2009 by
Lawrence Booth
in
Australia
,
England
,
Test cricket
,
The Ashes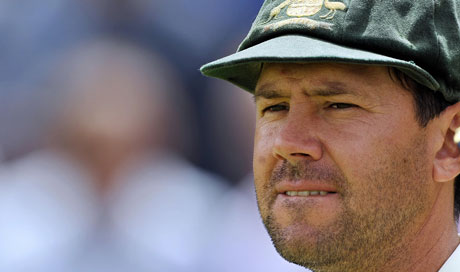 To judge by the responses to a blog over on the Guardian website, opinion is divided as to the heinousness of the boos aimed at Ricky Ponting during the Lord's Test. I'm guessing here, but I'd say the divide went something like this: the English weren't too fussed about it, the Australians were. Twas ever thus, of course, but the question remains: why Ricky?
You may think this is no time for an English scribe to be sympathising with the captain of Australia. England have just won at Lord's for the first time in 75 years; Australia's strike bowler has lived up to his tag by apparently going on strike; Andrew Flintoff is a national hero once more. Sharpen the pencil, man! But the truth is Ponting deserves a fairer press than he gets – especially after his Test-match horribilis at Lord's.
The measure of the man was evident after that defeat, when he spoke with candour, humour and – when it came to the reaction of the crowd – a degree of self-deprecation which national stereotypes assure us is not part of the average Australian's DNA. And Ponting does talk well: he mulls questions over, he answers them directly, he looks people in the eye and he occasionally smiles.
His one blind spot concerns the aggression he displays towards umpires. He was at it in Cardiff when Aleem Dar correctly turned down a bat-pad catch off Paul Collingwood. He was briefly at it at Lord's when he became involved in the Phillip Hughes-Andrew Strauss controversy. Even the Australian media have pointed this out to him, not to mention countless former players. It's to Ponting's discredit that he rambles blithely on about playing hard but fair while ignoring the impression he makes.
But few international captains are squeaky clean, and Ponting's behaviour did not justify the reception he received at Lord's. So, again, why Ricky? His crime, perhaps, is to be the last senior player left over from the 2005 tour. Brett Lee was there, it's true, but he hasn't played in this series yet; Michael Clarke, too, but he belongs to a different generation.
Cast your mind back four years… Shane Warne received an earful at every ground he played… Glenn McGrath was bated on the Trent Bridge balcony for predicting a 5-0 whitewash… Jason Gillespie had to endure constant comments about his appearance… Justin Langer bantered at length with the Edgbaston crowd… Matthew Hayden rarely got a moment's rest. And Ponting? He was run out by Gary Pratt.
Ponting is the sole survivor of the legends who attained pantomime-villain status in the eyes of the English crowds, and he's the obvious target now. If he's strong enough, which he almost certainly is, he can benefit his team by soaking up the opprobrium. But if he lets it get to him, and Australia start badly at Edgbaston, we could be into the siege-mentality territory that brought the tourists down four years ago. We may find out a lot more about Ponting in the weeks ahead.
Lawrence Booth writes on cricket for the Guardian
Posted in Australia, England, Test cricket, The Ashes |