July 29th, 2009 by
Lawrence Booth
in
England
,
The Ashes
,
The media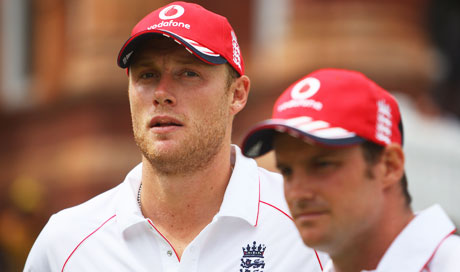 It could only happen to Andrew Strauss. He scores 161 on the first day of an Ashes Test at Lord's to lay the foundations for an historic win and the man of the match award goes instead to a bloke with an acute sense of theatre and – dare we point out? – a first five-wicket haul for four years. While a nation goes gaga for one, it almost forgets the other. For Strauss, passed over for the Ashes captaincy in favour of Andrew Flintoff in 2006-07, there may even have been a shiver of déjà vu.
The fact is, Strauss is easy to overlook. Did you know that since he made 177 at Napier in March 2008, an innings that – ridiculous though it now seems – saved his career, no one in the world has scored more than his 1,712 Test runs? Or hit more than his eight Test centuries? No one in the world. Yet still we hear that Kevin Pietersen is England's only truly world-class batsman.
So much for his quietly unerring accumulation of runs: what of the captaincy? At Lord's, Strauss had to contend with criticism of his decisions a) not to enforce the follow-on, and b) to set Australia a mere 522. The first, we learned, was negative because he didn't trust his bowlers to skittle Australia again; the second, apparently, did not quite bat Australia out of the game. In both cases the critics were wrong. Strauss could have sulked in his press conferences as one or two of his team-mates occasionally do. But he just got on with the job.
And what a job it's been. Quite apart from knocking on the head the rule that states an England captain shall stop scoring runs, Strauss has had to turn around a squad which over the winter threatened to implode. Of course, from 51 all out in Jamaica, the only logical way was up, but the dressing room was divided and egos were running rampant. It has taken two relatively egoless figures in Strauss and Andy Flower to restore sense.
The last few weeks have reinforced the suspicion that Strauss is seen as lacking qualities that have traditionally made other England captains easy to write about. He is tough but not in the Ray Illingworth mould; cerebral but not up there with Mike Brearley; astute but still adrift of Michael Vaughan. But he has enough of each quality to form an understated whole. If Ricky Ponting is the sexier story this summer, Strauss will not mind one bit.
There was a nice moment at the end of the Cardiff Test, when Australian tempers were running high after England's time-wasting tactics. One reporter grandly informed Strauss that Ponting was unhappy, thus inviting the England captain to hit back with a rather more colourful adjective. Instead, in a tone of voice that was sincere enough to draw the sting but retained a telling ounce of indifference, he replied: "If Ricky's unhappy, that's a shame."
It was quiet and effective. Which is how Strauss is planning to be all the way to The Oval and beyond.
Lawrence Booth writes on cricket for the Guardian
Posted in England, The Ashes, The media | 3 Comments »