August 21st, 2009 by
Alex Bowden
in
England
,
Test cricket
,
The Ashes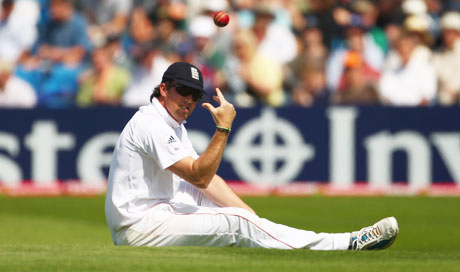 Marcus North took the ball and began his over. Someone, somewhere punched the air. The number of times this had happened previously could be counted on the fingers of one head.
Who punched the air and why? It was us and there were three reasons.
It was the 81st over and

ol

' gob-hands had opted to continue with Marcus North rather than take the new ball. There's some spin in that pitch.
England have picked the only spinner in the match.
Fast knackering pitch: There might be a result before the end of the weekend.
More chance of a result is better for England. There might be more chance that Australia will win, but that doesn't matter. There's also more chance England will win and that does matter. Hopefully it ends early as well. Here's why.
Monday finishes are part and parcel of Test cricket, but the simple fact is that most of us are at work. Four years ago, we gambled and booked the last day of the fifth Test off work about six months in advance. This year we've booked today off, so on Monday, if the match is still going, we'll be doing the modern equivalent of watching Ceefax - staring at a scorecard on the internet and waiting for the numbers to change.
It's all wrong, Even if England win, you can't celebrate victory with a bonus cup of tea on a Monday afternoon. That's how you celebrate getting one column of figures to add up to the same as another column of figures. The Ashes is bigger than that. You celebrate victory by taking a few unsteady steps towards cirrhosis of the liver.
The Ashes deserves better than a Monday finish. The folk memory of 2005 is of a riotous last day and a week long party. As we remember it, bad light intervened and when we jumped up to celebrate, we realised it was Monday night, no-one was around and we had to go to work the next day.
Graeme Swann, you owe us a Sunday night finish. Not sure why, but you do.
King Cricket blogs at www.kingcricket.co.uk. He is a cult figure in the world of cricket blogs and was TWC's first Best-of-blogs winner in April 2008.
Posted in England, Test cricket, The Ashes | 4 Comments »