August 24th, 2009 by
TWC
in
England
,
Test cricket
,
The Ashes
,
The media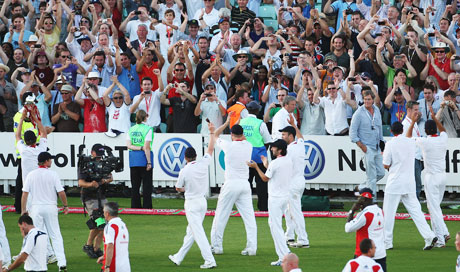 As Australia slipped, like a determined but doomed rock-climber, to a slow demise at The Oval, debate in SBS's Sydney TV studio turned (not for the first time) to the crumbling pitch. The verdict of David Lloyd (Nine Tests for England)? "Interesting". That of Greg Matthews (33 Tests for Australia)? "A disgrace".
In just four days The Oval's head groundsman, Bill Gordon went from being barely a household name in his own household to Australia's more talked-about men, as the visitors' first innings disappeared in a puff of south London dust and "Ricky Ponting experienced the hopelessness that for so many years overcame opposing captains" (Peter Roebuck, Sydney Morning Herald).
Indeed, after day two, The Times reported that an Australian journalist had asked for an interview from a harassed Gordon, who simply claimed his name was John and offered to pass on a message.
"Hardly a soul in England will complain if their brave lads can dismiss Australia bowling last on a dusty, dodgy deck to regain the Ashes," wrote Malcolm Conn in The Australian on day four. "Heck, Bill Gordon might even receive an MBE."
On a "manufactured" pitch, Conn claimed it was astounding to see England's "inconsistent" offspinner Graeme Swann bowling at first-change. "The first ball of Swann's second over turned and bounced so much that it is unlikely a batsman playing at the Oval has missed a ball by as much as Katich waved hopefully at it."
Meanwhile, a colleague in Sydney noted wryly of the pitch that it was "the first time I've ever seen a drought 22 yards long and three yards wide".
Roebuck in the Herald was less sceptical. The wicket, he wrote, had "started scruffy and, like the monarchy, held together longer than expected". And even Conn admitted that "it is [un]likely to have made any decisive difference, given another poor Australian first innings batting performance". And on the whole, the Australian press laid off Gordon, if only to show that they leave the whingeing to the Englishmen.
Or non-Englishmen as the case may be, with several papers conspicuously noting the team's strong South African contingent, including Jonathan Trott, several of whose quotes were prefaced by something along the lines of, "Jonathan Trott, speaking in a strong South African accent, claimed …"
"Is it England or South Africa tormenting Australia in this Ashes series?" wondered Ben Dorries in Sydney's Daily Telegraph. "After England's latest batting hero Jonathan Trott made 119 on debut in the fifth Test it seems the Rainbow Nation is more of a factor than the Mother Country … Between them, the four South Africans have scored 1048 runs this series – over 40 per cent of England's runs."
Nor did English nerves go un-noticed. "Only an Englishman, on the verge of such a comprehensive victory, could be so fearful of losing," wrote the Herald's Jamie Pandaram. "It says much of the psychology in this land that when all others would have celebrations well under way after setting the opposition 546 for victory, many England fans can only see ways for their side to lose".
Closer to home, in the search for scapegoats the selectors rather than the captain emerged as early favourites. The omission of Nathan Hauritz at The Oval was, according to Roebuck, "a culpable blunder", and both Michael Slater ("we have gone to England with the wrong squad") and Ian Chappell ("they handcuffed Ponting with four seamers") agreed.
Hardly anyone thought Ponting would go. "Forget all that nonsense about criticising Ponting's captaincy", wrote Conn. "He remains by far the best player to lead the team. Ponting is not a bad captain and his record says as much. Few have had more success in the history of the game. And that is not just on the back of the final stages of the great Shane Warne-Glenn McGrath era."
Roebuck felt the same. "Ponting will not be evicted. Nor is he likely to step aside. Although the inside edges are a worry, he confirmed his batting skills in Cardiff and Headingley. And it is rare for an Australian captain to be allowed to keep playing once he has stood down. Other countries may field several former captains in their line-ups but that is not the antipodean way. Ponting knows that resignation and retirement are closely intertwined."
By Paul Coupar in Sydney. Paul Coupar is a former features editor of The Wisden Cricketer.
Posted in England, Test cricket, The Ashes, The media | 2 Comments »