August 25th, 2009 by
John Stern
in
England
,
Test cricket
,
The Ashes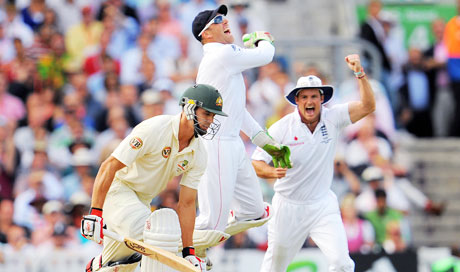 In a series of fluctuating form and fortune, let's hear it for Mr Consistent, the unloved under-rated England gloveman.
After the third day's play of the Lord's Test, Matt Prior faced the press. He was asked about Brad Haddin's iron-gloved display in in England's first innings.
He smiled wryly, as if to say: "Are you blokes for real?" Prior remembers, even if the journalists chose not to, of the relentless character and technique assassination during phase one of his Test career.
He was hardly going to climb into a fellow keeper, even an Aussie one. Prior dutifully made excuses for Haddin about the wobbling around more at Lord's than elsewhere and other such dressing room platitudes.
Despite making a century on Test debut in 2007, Prior soon became an emblem of England's post-2005 malaise: charmless, over-rated, all mouth and no trousers. He was at the heart of the jelly-bean fiasco against India, guilty by overheard word rather than deed. He reached a nadir in Sri Lanka that winter when he lost the ability to catch.
Since his return the following summer, he has improved beyond measure. His batting was on the right side of useful, sound in technique and ticker. He scores first-innings runs (averaging 53 to 31 in the second innings), which is a useful barometer of a batsman who can handle pressure.
But his glovework in the Ashes was unobtrusively excellent, the zenith perhaps his first-innings catch at The Oval to catch Mitchell Johnson, whose edge off a full-blooded drive found the palms of Prior's gloves, standing up to Graeme Swann. He's not Alan Knott but he's at last presentable.
He is no longer the gobby South African-born stumper, he is part of the determined, modest ambition of the embryonic Strauss/Flower era. No open-top bus parade for these boys, the fifth best Test team out of nine.
And that, without wanting to get too 1950s about it, is the way it should be. Sunday was a great day, never to be forgotten but let's try to build on it this time rather than piss it away in the Prime Minister's garden.
Who knows what state we'll be in the next time Australia come here but with the two Andrews in charge, I feel we're in good hands.
John Stern is editor of The Wisden Cricketer
Posted in England, Test cricket, The Ashes | No Comments »