July 2nd, 2008 by
TWC
in
County cricket
and tagged
jon batty
,
naylor
,
surrey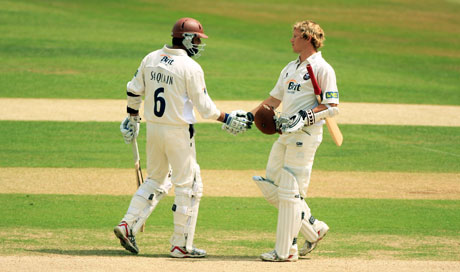 1. Jonathan Batty 136*, Surrey v Kent, The Oval, June 29/30, 2008
After a dismal Twenty20 campaign in which his team won just two matches of ten and he averaged a miserable 17, Surrey's Jonathan Batty had more reason than most to welcome back the four day game to English cricket's crowded smorgasbord of cricketing formats.
Batting first at The Oval in front of a decent Sunday crowd, Batty was at the crease forty minutes before lunch after both Surrey's openers failed. He raised his bat five minutes shy of seven and half hours playing time later, as he strode undefeated from the field with 136 runs to his name. He had played and missed, been becalmed for long periods and never dominated Kent's bowlers, but, by sheer force of will, he had toughed it out for his side. It wasn't pretty, but cricket isn't a beauty contest, else VVS Laxman would have all those runs, not Rahul Dravid.
It may yet not win Surrey the match, but this innings had a lesson for English cricket. Limited overs matches can hone many skills: positive batting, imaginative bowling; aggressive fielding; quick-minded captaincy, but it can't teach a batsman how to build an innings when out of touch. All the greats could do that: some (one thinks of Lara and Gilchrist) so skilfully that we barely noticed it; while others (Steve Waugh and Kallis for example) did it more obviously.
Batty's was an old-fashioned innings with old-fashioned virtues in an old-fashioned format, but it was fascinating to watch and, in its own way, quite brilliant. It was also the sort of innings that vindicates the County Championship as a bridge to Test Match cricket.
By Gary Naylor
Posted in County cricket |