July 14th, 2008 by
Alex Bowden
in
Miscellaneous
,
South Africa in England
and tagged
boycott
,
pougatch
,
TMS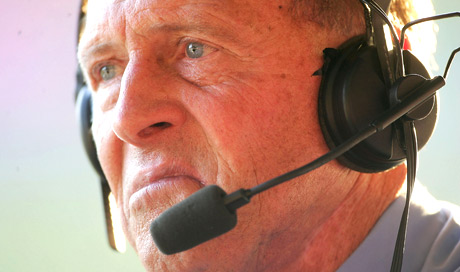 Geoffrey Boycott probably has an opinion on how you wash your armpits and he doesn't even know what technique you employ. Mark Pougatch is new to cricket commentary. He's finding his way. He's probably a bit nervous and he doesn't have a great many opinions of his own.
We'd really appreciate it if Test Match Special would stop combining Mark Pougatch with Geoffrey Boycott. It makes for excruciating radio.
Boycott has legions of opinions. He equips these opinions with monstrous, inhumane weaponry and sends them out to conquer whoever's within earshot.
To be on the receiving end of a direct Boycott opinion is to be submitted to a level of interrogation that defies the Geneva Convention. If you make the mistake of groaning even the weakest murmur of dissent, you receive the barrage again, only with added force. Eventually all there is to do is meekly concur and hope that the ordeal is over.
Listening to Boycott speak to Mark Pougatch is to hear one man's actual brain being reshaped in an instant, purely through the power of another's words. A sample exchange tends to run as follows:
Pougatch: Good shot there from Smith - straight to a fielder though.
Boycott: Are you kidding? That was a terrible shot.
Pougatch: Yes, he maybe should have left that one.
Boycott: He should have played it towards mid-off.
Pougatch: Yes, a straighter bat was called for there.
See King Cricket's regular blog at www.kingcricket.co.uk. King Cricket is a cult figure in the world of cricket blogs and was TWC's first Best-of-blogs winner in April 2008.
Posted in Miscellaneous, South Africa in England |