July 16th, 2008 by
Rob Smyth
in
England
,
South Africa in England
,
Test cricket
and tagged
England
,
flintoff
,
harmison
,
hoggard
,
jones
,
rob smyth
,
rotation
,
South Africa
,
the wisden cricketer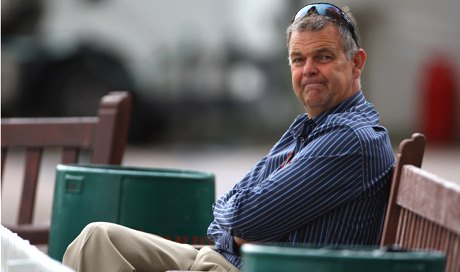 We're not remotely aware of the contents of Geoff Miller's underwear drawer, but it wouldn't be a surprise if contained therein are seven pairs of pants, each discreetly marked with a day of the week.
Miller seems to be a man of routine, for whom familiarity breeds contentment, for whom change is the thing that rattles in the trouser pocket. Imagine the torment he must have gone through before shaving off his beard. In everyday life this might evoke a kind of tragic, quintessentially English eccentricity – the kind portrayed in the Blur song Ernold Same - but in his day job it is a serious virtue. Since moving from the ranks of selectors to head selector, Miller has furthered the policy of stability preached by Duncan Fletcher and, to a lesser extent, Miller's predecessor David Graveney. The result was that, at Lord's, England set a new record by playing the same side for six Tests in a row.
That will almost certainly end at Headingley, but only because of the truly exceptional circumstance that is Andrew Flintoff. While England's policy is undeniably admirable, and infinitely preferable to the pin-the-tail-on-a-donkey policy of the late 80s and early 90s, it is arguable that they have it taken too far, particularly in an age when physical demands on players are greater than ever. This stability is getting out of hand.
In other team sports, those demands have led to the introduction of squad rotation, yet with a few exceptions (most notably the Australian one-day side), there are few indications that cricket is ready to embrace such a development. It was predicted by TWC blogger King Cricket two years ago, but little has happened since then, and in recent times Peter Moores and Paul Collingwood have both poo-poohed the idea.
The caution is understandable, but misplaced. When Aston Villa won the English football league title in 1981 by using just 14 players all season, nobody could envisage that, 20 years later, Manchester United would use 29 players in winning the league. Or that, 27 years later, United would win the Champions League with a side that had never taken the field together before.
But by the same token, those watching Australia crawl to 207 for three on the first day of the 1989 Ashes could not have envisaged that, five years later, they would make 329 for four on the first day of another Ashes series. Things change, and it is better to pre-empt where the ball is going than to follow it.
Given the increasing demands of back-to-back Tests and Twenty20, squad rotation will happen sooner rather than later. In football, managers talk of the squad rather than the team. When we refer to the England XI, it is not just the Roman numerals that are antiquated.
Clearly there are certain differences: in football we are talking about the club game, but then the concentrated itinerary of international cricket is not that different to the final few weeks of a football season. Essentially is it all about enlightened use of the squad for maximum gain, whatever form that use may take. The same is true in rugby; last year's World Cup was notable for the preponderance of high-impact substitutes such as Sebastien Chabal. Cricket can learn so much from its siblings. In football, wide players now swap wings throughout a match as a matter of course. Why shouldn't, say, the middle order of a one-day side not be equally flexible, shuffling according to the match situation?
The obvious area in which squad rotation would benefit a side, both in the short- and long-term, is fast bowling. After the draw at Lord's, Neil McKenzie said: "If we win the toss and bat [at Headingley], it'll be a long fielding session for them." England were in the field for three days solid at Lord's, a bruising experience mentally, never mind physically: Ryan Sidebottom and Stuart Broad bowled 49 overs and James Anderson 53. In football, that would equate to going to extra-time and penalties on a sapping, muddy pitch on a Wednesday, with another game on the Saturday. In such circumstances, changes would be inevitable.
It is not as if England are without the tools: they could legitimately change the entire seam attack, bringing in three from Andrew Flintoff, Steve Harmison, Matthew Hoggard and Simon Jones. Not only would they be fresh, but they would also be highly motivated: the competition for places would be absolutely enormous. Egos would have to be dealt with, but in many ways that becomes easier: no longer are you telling a player that he has been dropped, merely rotated. Certain irreplaceable players – Kevin Pietersen, Monty Panesar – would remain largely unrotated. It would mean a hell of a lot more work for the selectors, but that is hardly an issue. Nor is the inevitable complaining that would come from the counties.
It could feasibly be extended to the batting. When somebody is in obviously diabolical form, like Collingwood now or Andrew Strauss last year, they could be gently eased out. At the moment, when an England player is dropped it feels so seismic an event that you half expect it to need ratification from the Queen.
In no way would such an approach represent a return to the revolving-door policy that led to 29 players being selected for six Ashes Tests in 1989. This is an entirely modern development, which fits the changing nature of the game's itinerary and of its athletes' physical capabilities and demands.
An easier and preferable solution, of course, would be to trim the schedule. But as that is not going to happen, alternatives must be found. The best one is staring cricket in the face. All it has to do is open its mind.
Rob Smyth is a freelance journalist. Rob is part of a group running 10 miles (which is 9.9 more than he's ever run before) for the Laurie Engel Fund in London on August 31. To sponsor him, click here; to read why he's doing it, click here; or to join in the run, email Rob.
Posted in England, South Africa in England, Test cricket | 8 Comments »