September 24th, 2008 by
Sam Collins
in
County cricket
,
England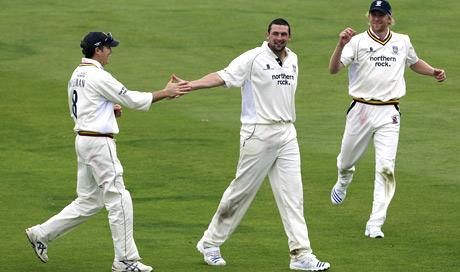 As the County Championship draws to a nailbiting close, the PCA have named a four-man shortlist for the PCA Player of the Year award, encompassing Marcus Trescothick, Ravi Bopara, Steve Harmison and Martin van Jaarsveld. While all four have had exceptional seasons, did the PCA get it right, or are there others out there who deserve recognition? We asked our panel who their choice would be for Player of the Season.
John Stern
Editor of The Wisden Cricketer
Darren Pattinson (Notts)
At present Darren Pattinson is wearing the same grimace of apparent constipation that caused such consternation during the ill-fated Headingley Test. It was the rebirth of Angus Fraser. He is, according to Nottinghamshire coach Mick Newell, just knackered after a peculiar season in which he was an unwitting pariah, a lightning conductor for all of the England team's midsummer nightmares, but will finish by most likely winning the County Championship.
Notts' success is not all down to him but his new-ball partnership with Charlie Shreck, which topped 100 wickets in the final match against Hampshire, has been the crucial factor. As a sentimental choice, as a story of bloke getting his just deserts after taking showers of undeserved flak, Pattinson gets the nod.
Edward Craig
Deputy editor of The Wisden Cricketer
Imran Tahir (Hampshire)
Imran Tahir turned definitely relegated Hampshire into table-toppers with a (very) outside chance for the title going into the last game. He was playing club cricket till July - taking bundles of wickets - and continued with the same success at first-class level. His legbreaks, googlies and energy have gone massively unnoticed but in his short spell at the Rose Bowl he's done for Hampshire (36 wickets at 17.25 in only six matches) what Mushie did for Sussex, and next year he'll win them the title.
Benj Moorehead
Editorial assistant of The Wisden Cricketer
Rob Key (Kent)

Thinking with my heart rather than my head. Its been snakes and ladders all season for him, only long snakes and short ladders. Runner-up in the Twenty20, denied a place in the Champions League, runner-up in the FPT, somehow not promoted from the Pro40 Division Two despite an heroic hundred in the deciding match ten days ago. Oh, and the sudden rumours that he would be installed as England captain. And now slipping into relegation trouble in the Championship (another plucky 58 today by the way) having thought about winning it a couple of weeks ago. He is the captain defiantly playing on as the Kent ship submerges.
Robin Martin-Jenkins
Sussex allrounder, columnist and beneficiary
Martin van Jaarsveld (Kent)
If MVJ wins the PCA award then it'll be partly because of my vote and I stand by it. All prejudices about Kolpak players aside he has been the player who has contributed the most to his team's success. He has scored heavily in all the competitions, virtually carrying the rest of the under-performing Kent batting line up and ensuring they finished runners up in both the Twenty20 and Friends Provident trophy, and, until a slip up last week, remained contenders for the championship. And he took wickets too – indeed he should be considered player of the year just for his performance against Surrey at the end of June. Has a player ever dominated a County Championship match in quite the same way before? 114 not out in the first innings, 5 for 33 in Surrey's second innings, and an undefeated 115 to guide Kent to victory in the ensuing run chase. Enough said.
King Cricket
Steve Harmison (Durham)
There are a handful of batsmen with good claims, but of those we'd pick two who might not be as immediately striking, but who've perhaps hit more meaningful runs than some of their willow-wielding rivals. Mark Wagh has hit a thousand runs this season and considering he's played half his cricket at Trent Bridge where scores have been low, that's no mean achievement. Michael Di Venuto's had a similar season for Durham. Nottinghamshire and Durham have won more matches than anyone else and that's largely thanks to fantastic batting efforts in some difficult conditions from this pair.
Of the bowlers, James Tomlinson has been the most surprising over-achiever, taking more first division wickets than anyone. But our County Championship player of the season would be Steve Harmison. All the Durham bowlers have taken wickets, but Harmison's taken the tricky ones and he's done it repeatedly. Plus he's a fast bowler and they're just fundamentally better than batsmen or fast-medium bowlers. That said, his team-mate, Mark Davies, deserves a nod for taking 37 wickets at the ludicrous average of 14.72.
Sam Collins
Web editor of www. thewisdencricketer.com
Steve Harmison
It's got to be Harmo. It is important, both for England and the Championship itself, that domestic players are motivated by the knowledge that consistently good performances in the County Championship will lead to international recognition. While the unfortunate Darren Pattinson proved that to be the case, it is Harmison who has used the 2008 season better than anyone to rebuild an England career that had appeared to be as good as over.
What's more, he has shown the same application on his return to Durham after England duty. The domestic game needs fast bowlers as much as England do, and with over 60 first-class wickets Harmison has done much to make this season memorable for both.
Posted in County cricket, England |