August 26th, 2009 by
Lawrence Booth
in
England
,
Test cricket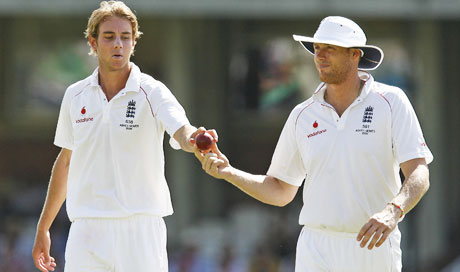 You're probably sick and tired by now of so-called farewells to Fred, the man who says he wants to play international cricket until 2015. But a funny thing happened this morning when I was indulging my inner anorak by compiling the end-of-series stats page for this blog's big-brother magazine. I hope John Stern, TWC's editor, will not think his publication is being scooped from within when I reveal that England's second-best player – according to the marks out of 10 handed out after each Test for the mag by the designated reporter – is, yes, Andrew Flintoff.
In fact, Fred came very close – within 0.05 of a mark at a rough estimate – to ousting Andrew Strauss, who outscored everyone in the series, out-captained Ricky Ponting and turned a 51-all-out rabble into conquerors of the team formerly ranked No1. And yet the fact that Flintoff nearly toppled Strauss at the top of our table after scoring 200 runs at 33 and taking eight wickets at 52 somehow sums up a Test career in which sheer presence has almost counted for more than hard results.
The effect was typified by the run-out of Ricky Ponting. More than one news bulletin on Sunday night suggested this was the turning-point of the day (as if Australia were ever going to chase down 546). It was certainly an alpha-plus moment of drama, but it didn't decide the Ashes any more than Flintoff's five second-innings wickets at Lord's (as if Australia were ever going to chase down 522) or his 74 at Edgbaston (where Shane Watson fed him half-volleys).
But then that is Flintoff: a force of nature who gets the crowd going and whose deeds (2005) are more comfortable to wallow in than his misdeeds (2006-07). Sport needs big men who inspire kids and allow adults to dream a little. And while journalists can ask legitimate questions about what a player actually brings to a side, those questions can never compete with gut feeling. The gut feeling of the British public is that Flintoff did a lot more in the 2009 Ashes than raw numbers suggest.
This is all well and good, but there is a flipside – and he is called Stuart Broad. The nation's need for an easy-to-follow storyline already has Broad down as the New Flintoff. Even Flintoff, speaking on Monday morning, uttered the dreaded words: "Over to you, Stuart." If England want to slaughter their very own golden goose, this is the best way to go about it.
No one could really argue with Broad's man-of-the-match award at The Oval, but no one could have argued if Graeme Swann had been awarded it either. He made more runs, more quickly in the match than Broad (81 to 66) and took more wickets (eight to six). But then Swann isn't the New Flintoff. The baton had already been passed on: too late, Swanny.
England have to be careful here not to overload a 23-year-old in our obsessive search for back-page fodder. Broad has the potential to become a very good all-rounder, but two decent bowling performances in the series (he looked better while taking two wickets on the last day of the Edgbaston draw than six during the Headingley debacle) and some classy cameos with the bat leave room for improvement. The beauty of Broad is that he recognises this. Now, please, let's just give him the room to breathe.
Lawrence Booth writes on cricket for The Guardian
Posted in England, Test cricket | 2 Comments »